Hot happenings in Denmark 2017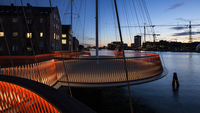 In 2017, you will no longer have any reason to post-pone your visit to Denmark. 2017 brings Denmark to a year full of exciting news within culture, architecture, gastronomy and history. Here is a selection of the Hottest of Happenings in Denmark in 2017.
More reasons to stay over in Denmark… British overnight stays on the increase
The lure of world-class gastronomy, liveable cities, cutting-edge design and architecture and gripping crime fiction sees UK visitor numbers continuing to climb with overnight stays up 18.3% during the first six months of 2016 according to a report released by the Danish Statistical Office. The marked increase comes on the back of a gradual climb in British visitors numbers that has seen over a 50% increase since 2009.
Aarhus, Denmark's Second City, celebrates Capital of Culture 2017
Celebrating its title as the European Capital of Culture 2017 with the theme of 'Let's Rethink', Aarhus and the surrounding region of Central Denmark is set to celebrate a remarkable year of thought-provoking art, culture and innovative development. Under the all-encompassing title of Aarhus 2017, the city will host an impressive cast of international and Danish artists with four not-to-be-missed 'Mega' highlights, 13 'full moon' experiences and over 350 diverse events. Aarhus will rethink art, music, culture and food on a grand scale, like never before, providing even more reasons to visit the city in 2017.
aarhus2017.dk/en
European Region of Gastronomy 2017: Rethinking Good Food
European Region of Gastronomy for 2017, Aarhus and the surrounding region of Central Denmark is a mecca for foodies. With outstanding fresh produce and new restaurants, bars and food markets adding to its culinary prowess, the region continues to gather international acclaim for its Michelin star restaurants and annual Aarhus Food Festival, which has grown to become the largest in the Nordics. As part of 'Rethinking Good Food' in 2017, chefs, producers and world leaders in sustainable thinking will come together to host a programme of events that not only pays tribute to gourmet food and local ingredients but addresses the need to rethink a more sustainable food culture. One of the highlights of the programme will be The People's Feast, a communal dinner where 500 people will be able to sample different menus from all over the world, including a menu of the future born out of much scientific, culinary and forward-thinking discussion.
aarhus2017.dk/en/news/aarhus-central-denmark-awarded-title-of-european-region-of-gastronomy-2017/1513/
New LEGO House a sleek chip off the old block
Coinciding with the 85th birthday of the first wooden block and 60th birthday of LEGO's all important interlocking brick, LEGOLAND Billund will open a new sleek LEGO House in 2017. The new 12,000 m2 building has been designed by the Bjarke Ingels architect group to look like a cloud of interlocking LEGO bricks with a pile forming the roof of a new covered square leading to interconnected terraces and playgrounds. Inside, LEGO House will be a hands-on minds-on experience where LEGO fans of all ages can come and experiment with LEGO bricks, share stories with LEGO bricks, express their imagination and creativity through LEGO bricks whilst meeting other LEGO builders from all over the world.
secure.lego.com/en-gb/aboutus/news-room/2014/august/lego-house-foundation-stone-2014?ignorereferer=true
World Famous Noma takes a Revolutionary move
Ranked as the world's best restaurant 4 times in the last 6 years, Chef René Redzepi's Copenhagen restaurant Noma will leave its current location in Christianshavn and reopen in 2017 on the border of the special Danish community, Christiania, with a new mission and a new menu. Excelling in locally sourced and foraged Scandinavian cuisine and with two Michelin stars to his name, Redzepi plans to take a revolutionary approach to the new graffiti covered derelict space by transforming it into a thriving urban farm and restaurant, with a green house on the roof and fresh soil covered grounds. Focusing on a seasonal menu, the aim is for the majority of ingredients to come from noma's own farm.
visitcopenhagen.com/press/copenhagen/past-present-and-future-noma
Copenhill – Copenhagen's new eco-friendly energy plant with a ski slope
In an extraordinary piece of architecture and technological thinking, which brings science fiction to the fore, Danish architects Bjarke Ingels Group (BIG) have designed the city's new waste fired power plant Copenhill as a multifunctional recreation area. Built in the form of an 85-metre high hill, it raises the bar for resource optimisation with an energy efficiency of 107% and, more astonishingly, will provide Copenhagen with a 31,000-square-metre roof top ski slope when it opens in 2017, giving visitors the unique opportunity to take a ski run on top of the world's most modern and environmentally-friendly waste-to-energy plants.
architecturenewsplus.com/projects/1372
Experimentarium - New World-Class Science Centre opening in Copenhagen
Boasting the World's first interactive cinema where everyone in the cinema has to cooperate, Denmark's brand new Experimentarium is set to fascinate visitors with its experiential and fun approach to science and technology when it opens in January 2017. Cleverly designed by Danish architects CEBRA to emphasise its scientific nature with impressive features, such as a beautifully spiralling copper stairway reminiscent of the twisting double helix structure of DNA, the 11,500m2 centre will be spread across 4 floors offering a broad range of experiences including 16 challenging interactive exhibits that explore everything from the human body to the fascinating science of soap bubbles. Paying homage to the site's former function as a bottling factory for Tuborg, part of the Experimentarium's new 28-tonne façade will be made out of recycled beer and aluminium cans.
archdaily.com/246452/update-experimentarium-science-center-cebra
The Harbour Circle – the chosen route for a more unusual inner city cycle
Renowned for showcasing Danish architecture, design and gastronomy, Copenhagen is also one of the world's best cities for cycling and what better way to explore some of its lesser-known areas than on the recently launched 13km cycle route -The Harbour Circle. Stealing some attention from the usual attractions, this new waterside route runs through 12 different urban areas uncovering landmark architecture, rickety houseboats, newly developed docklands and harbour baths with stretches of nature in between whilst revealing the attractive, yet little seen, side of inner city living.
visitcopenhagen.com/harbourcircle
Copenhagen Beer Walk Offers a Refreshing Way to Explore
With Carlsberg turning 170 in 2017, it only seems fitting that Copenhagen has introduced a beer walk that takes thirsty visitors around the trendy areas of Vesterbro and Nørrebro in search of a refreshing ale. Exploring some of the city's tucked away watering holes, the Copenhagen Beer Walk offers a choice of 12 bars to be taken at leisure. Costing 199 DKK (approx. £24), the package includes a tasting glass, a map and six beer tokens.
copenhagenbeerwalk.com
New Corner for Tivoli set to entice visitors in 2017
One of the world's most well-known historic amusement parks and pleasure gardens, Denmark's Tivoli Gardens, is set to open an exciting new building on its northwesterly corner in November 2017. Aptly named Tivoli Corner, it will comprise 5,300m2 of retail and restaurant space along with 2,000m2 of hotel space. Accommodating an eclectic food court, Illums Boliguhus design shop and two other outlets, it will also add 21 luxurious rooms and a spectacular new rooftop terrace to the park's award-winning Nimb Hotel.
tivoligardens.com/en/om/projekter/tivoli+hjornet
Troll to your happy place in colourful Denmark
Hitting the screen with their flashy, stand-on-end hair, VisitDenmark launches a tourism campaign to coincide with the worldwide release of DreamWorks uplifting animated comedy Trolls. Originating from Scandinavian mythology, Denmark is home to the original, very popular and happy 1930's toy troll on which the movie is based. Reaching out to 10 markets in Europe, USA and Asia, VisitDenmark's fully integrated campaign will promote the enticing and colourful homeland of the trolls inviting travellers throughout the world to find their own happy place in Denmark. Using the Trolls movie artwork and logo, a true highlight of VisitDenmark's campaign will be a series of 360 degree #TrueColours videos, which will spotlight iconic Danish destinations being visited by the film's animated Trolls. Currently on release in the UK, the movie features voiceovers by Anna Kendrick and Justin Timberlake.
Find your happy place in colourful Denmark: visitdenmark.com/trolls
Museum Center Blåvand – A Hidden Bunker Museum to open in 2017
On the coast of South-West Jutland, the Germans started building the Tirpitz Bunker as a part of the Atlantic Wall in 1944 but never finished it. In 2017, the Danish architect group, Bjarke Ingels Group, will complete work on an impressive new hidden away, state-of-the-art, glass and grass roofed museum in the coastal dunes that will run alongside the WWII bunker. Helping to bring the former historic building to life, the museum will comprise four separate exhibition spaces featuring the Atlantic Wall, life on the Danish West Coast, the World's largest collection of amber and a visiting exhibitions area.
archdaily.com/449844/big-set-to-build-blavand-bunker-museum
Kronborg Castle Celebrates 80 years of Hamlet
In August 2017, Kronborg Castle, also known as Hamlet's Castle, will celebrate the 80th birthday of its very first international set-up of Shakespeare's Hamlet. As part of the celebrations HamletScenen, Scandinavia's leading Shakespeare Stage, will be taken out of the castle's courtyard with special night performances along a torch lit moat. Giving an insight into the everyday lives of Renaissance people, Hamlet Live will also perform a sequence of small scenes throughout August.
Viborg to celebrate the anniversary of the Reformation
With the 500th Anniversary of the Lutheran Reformation being marked across Europe in 2017, Viborg will be joining in the celebrations as the first town in the Kingdom of Denmark to see Martin Luther's ideas implemented via the sermons of local monk Hans Tausen. Throughout the year, Luther's 95 theses, and the changes that these brought about, will be explored through on-going lectures, concerts featuring Danish and German hymns as well as Northern European renaissance music, a three day festival (as part of being one of the 67 countries chosen to be part of the European Roadmap) and through the fascinating exhibition 'Rethink Religion' at the Viborg Museum. In addition, neighbouring Aarhus will also be hosting its own RETHINK REFORMATION events as part of the European Capital of Culture Celebrations.
A New Guide to the 'Camino of Jutland', Denmark's Pilgrimage Route
With Camino walks becoming more popular, Danes and tourists alike will now be able to experience "Næssets Camino", a 100km pilgrim's walk in Jutland. Launching as part of the celebration of the 500th Anniversary of the Reformation, the new guide will include details of a well marked out trail with new smart GPS 'geocaching' providing information along the way.
haderslevstift.dk/fokus/reformationen/nyheder/naessets-camino
Snapsting - Viborg Hærvejsfestival celebrates its 5th anniversary
Based on an historic festival that took place from mid 15th to early 19th centuries attracting European tradesmen, showmen and people from all over Jutland to Viborg, Snapsting celebrates its 5th anniversary with a colourful week of culture, debate, sport, festivities and free concerts. Taking place from 16 to 25 June 2017, this diverse festival has also been chosen as one of the Aarhus 2017 European Capital of Culture 'Full Moon' events and will include a number of headline attractions such as the live installation by theatre Carte Blanche 'THE ART OF LISTENING', Snapsting for Children - European Playground - with workshops and artists from Europe, recycled soap box car race and thought-provoking lectures on the Reformation.
World StandUp Paddle and Paddleboard Championship comes to Denmark
In September 2017, participants of the ISA World StandUp Paddle (SUP) and Paddleboard Championship will surf the waves of the Danish oceans in Cold Hawaii at Klitmøller and along Copenhagen's canals. World renowned as one of the best surfing spots in Europe with excellent wind, wave and reed conditions, Cold Hawaii on the West Coast of Thy in North Jutland has 31 registered surf spots and regularly plays host to the international windsurfing championship Cold Hawaii PWA World Cup, making it the ideal place for the first stage of the Paddle championships. As one of the world's most liveable cities surrounded by some of the cleanest waters worldwide, Copenhagen will host the second part of the competition in its pristine inner harbour.
visitdenmark.com/denmark/tide-has-taken-2017-isa-world-standup-paddle-and-paddleboard-championship-denmark
Nordic Culture Hits the Southbank in 2017
Nordic Culture is set to feature predominantly at London's Southbank in 2017 as part of a Nordic/UK cultural exchange. With 'play' as the starting point, the project features interpretations of the theme through music, dance, performance, digital, literature, spoken word, design, visual art, fashion and food – all brought to London by Nordic artists. Showcasing the richness and diversity of the Nordic countries, the festival will also feature performances from the more 'hidden voices' of Greenland, Åland and the Faroe Islands.
storbritannien.um.dk/en/culture/southbank-centre-nordic-cultural-project-2017/
Royal Danish Embassy in London celebrates its 40th anniversary and Danish Design
An icon to Danish Design in London, the Royal Danish Embassy, will celebrate its 40th anniversary in 2017. Built in 1977 and designed by the famous Danish architect Arne Jacobsen (1902-71), who is renowned for his distinctive the Egg and the Swan chairs, the purpose built embassy on Sloane Square is a prime example of modernist design. In celebration of the building, the Danish Embassy will be collaborating with Aarhus City Hall in Denmark, also designed by Jacobsen, to present an interactive light show on each other's buildings. Citizens from both destinations will be able to control the lights and play games with each other during the 'We Believe' broadcast that will take place 13-19 November 2017.
storbritannien.um.dk/en/about-us/arne-jacobsens-embassy-building
Getting there … ?
There are plenty of flights from the UK to the various places in Denmark. Norwegian offers flights from Gatwick, Manchester, and Birmingham to Copenhagen, Aalborg, and Billund. Additionally, Ryanair have flights from London Stansted and Luton to Aarhus, Billund, and Copenhagen. EasyJet operates from Bristol, Edinburgh, Gatwick, Luton and Manchester to Copenhagen. Finally, SAS and British Airways operate from London Heathrow, London City Airport, and Manchester to Copenhagen, Aalborg, Aarhus, and Billund. Prices for one-way tickets from £19.99.