Sophisticated Champagne and Beautiful Ardenne: 10 Wonderful Experiences for 2017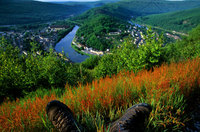 Whether you're planning an easy break by train just an hour or so from Paris, or a stop-off on the drive south (it's just 2.5 hours drive from northern ports), there are so many different things to explore and enjoy in this part of France, but here are a few of our favourite suggestions:
Champagne
1. Visit the chalk cellars of one of the world's most prestigious champagne houses in Reims or Epernay, such as Veuve Clicquot, Taittinger, Pommery or the newly renovated Moët & Chandon. Cellar tours are followed by a champagne tasting.
2. Enjoy a glass of champagne in the world's only tree-top champagne bar! The Perching Bar is set in a forest park just 15 minutes drive from Reims and features the finest local Champagne producers. perchingbar.eu. The bar is set within a natural forest adjacent to the ancient forest of Verzy.
3. Sample champagne to your heart's content at the Champagne Festival (La Route de Champagne en Fête), which takes place in the area of Les Riceys on the first weekend of August. The €18 entry fee includes a tasting glass, a route guide and access to all the participating champagne wineries. http://vignerons-les-riceys.com/?p=7308
4. Follow in Renoir's footsteps in the charming village of Essoyes in the Aube. This is where Renoir spent much of his later life and the artist's family home will be opened to the public in June 2017. This will add to the visitor centre, signposted paths through the charming village and the artists' studio and gardens. See http://renoir-aube-champagne.com. Combine with a visit to nearby Troyes, Mediaeval seat of the Counts of Champagne and the Knights Templar. Historic churches, museums, vibrant cafe culture and excellent shopping outlets on the outskirts of the city make this an ideal short break destination. en.tourisme-troyes.com
5. For nature lovers, the great lakes of Champagne (Lac du Der and lakes of the Forêt d'Orient) attract thousands of Common Crane and other migratory birds en route to winter sites in Spain. The dusk arrivals and dawn departures are a spectacular sight to behold from November to March. There are walking and cycling routes, nature reserves and a host of water sports and activities in the area too. See champagne-ardenne-tourism.co.uk/faun/fauna-flora/lakes/lac-du-der.aspx
Ardenne
1. Enjoy the stunning natural landscapes of the river valleys and forests, where you can hike, cycle and explore the excellent greenways. For adrenalin thrills take a ride on the Fantasticable: a full body zipwire launched from a hill-top platform for an incredible glide over the Meuse Valley at a speed of up to 80mph. terraltitude.com/en/. Terraltitude Forest Adventure Park also offers tree ropes, bungee jumping and other family activities to encourage visitors to explore the natural surroundings
2. Experience the historic setting of the largest fort in Europe at the Sedan Medieval Festival (tourisme-sedan.fr), is a highlight of the Ardenne calendar with a programme of events, spectacles and re-enactments in a glorious setting during weekend of May 20/21 in 2017. For the full royal experience you can stay in the hotel which has been created in the castle ramparts. chateaufort-sedan.fr/en
3. Immerse yourself in the battlefield history of the Ardenne, the only French department occupied for the duration of WW1. The War & Peace Museum here reopens in September 2017 after an extensive refurbishment. The region has seen several conflicts - from France's defeat in in the Franco-Prussian war at Sedan to the frontline trenches of WW1 and the Battles of the Marne. See http://champagne-ardenne-tourism.co.uk/discover/first-world-war-14-18 for more information on the Chemin des Dames, battlefield sites, trenches, camps, memorials and museums.
4. Make a note for your diary 2017 when The World Puppet Festival takes place in Charleville-Mezières 16 – 24 September. This spectacular bi-annual event celebrates puppetry in all its forms and attracts creative artists from around the globe with around 170,000 spectactors festival-marionnette.com
5. The Cabaret Vert Music Festival (cabaretvert.com) is another save-the-date event in 2017 for anyone who wants to combine great music with superb local cuisine and renowned specialist breweries. Next year's festival will take place from August 24-27.
Find out more about the experiences these regions have to offer at champagne-ardenne-tourism.co.uk where you can:
- view and download images from the photo library
- enjoy virtual visits of some of the major towns
- click into mini films and interactive videos
- listen to a series of 14 mini audio-guides
- download 8 award-winning themed brochures & maps
"A Season in Champagne-Ardenne" is a dedicated application for iPhones, smart phones, iPads and tablets. Also see the mobile website enchampagne.mobi, based on 5 key areas of the main site: a clever and practical guide to the region on the move.