Creative menu ideas for your next private event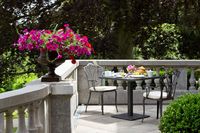 At Château Bouffémont, we are proud to offer, near Paris, a beautiful, stone-built French residence in which members of a sophisticated clientele can enjoy private events such as weddings, birthday parties, and cocktail parties. We also offer amenities that would enable you and the guests to sample refined cuisine. When preparing the menu, consider including the following creative ideas.
Chocolate and goji berry bars
Finding treats that remain healthy and nutritious while satisfying people's sweet teeth can be tricky. However, a recipe originally posted on TV presenter Fearne Cotton's blog could prove your salvation. This recipe for chocolate and goji bars has also been published by the Daily Mail.
The ingredients necessary for this recipe include raw unsalted almonds, coconut oil, dried dates, goji berries, and unsweetened cocoa powder or raw cacao powder. These bars, while containing chocolate, are also said to offer a supply of vitamin C and abundant energy.
Healthy no bake chocolate fruit pizza
Another bonus of those goji bars is that they could be popular with kids who usually turn their noses up at healthy options. There is the same benefit to this pizza - the recipe for which, image sharing site Pinterest's UK arm named the best for kids in its inaugural Best of Pinterest UK Food Awards.
That recipe originated from the My Fussy Eater blog and is also on the Daily Mail's website. You can spend just 20 minutes whipping this pizza together with almonds, coconut oil, vanilla extract, cream cheese, orange juice, and other ingredients - including your choice of fruit topping.
Spiced butterflied legs of lamb
It might be for a weekend that you want to rent a chateau in France. Our venue is ideally suited to a weekend stay, not least because it lies on the outskirts of Paris, a city which you and various guests could easily visit to see its amazing history, fashion, and cultural offer.
Only 30 kilometres separate the venue from the centre of Paris; however, when the time comes for everyone to settle back down at Château Bouffémont for Sunday lunch, you could offer spiced butterflied legs of lamb. The Daily Mail has indicated how you can make them using a recipe from Sainsbury's magazine.
Popsicle cocktails
Guests can quench their thirsts especially refreshingly with fruity popsicles. The Knot suggests that you could opt for gourmet versions of these popsicles, with which such flavours as raspberry sorbet and lavender can be enjoyed. Champagne could be added to the glass for an adults-only variant, which will be great to offer during the cocktail offer.
Doughnuts in glassware
Cakes can seem like very traditional inclusions on menus of private events. However, you don't have to settle for cakes, as you could instead select various desserts - including doughnuts. There is a broad scope for creativity with the toppings, colours, flavours, and sizes that you can choose for doughnuts, which you could provide in elegant glassware that matches the visual style of the venue.
Our own venue includes refined furnishings for an especially classy atmosphere; the building's rich heritage of magnificence will be very evident to your guests. However, returning to the subject of the doughnuts, we would advise you to keep the toppings optional, rather than already placed on those doughnuts. This is good for your guests' enjoyment, as it would let them experiment.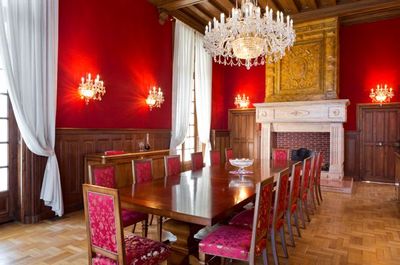 If you do choose to book Château Bouffémont - the history of which dates back to the nineteenth century - for your private event, rest assured that the venue is readily accessible. Travelling to it from Paris Charles de Gaulle Airport can take only 20 minutes.