Snow activities in Savoie Mont Blanc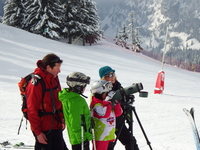 Sled Dogs are comfortable and light snow boots with steel edges fixed to the boots' base. They were invented in Norway and are now available in Les Gets.
Easy to control, Sled Dogs allow beginners to have their first fun on snow, while experienced skiers can improve their technique and fitness.
Free introductions to Sled Dogs will be available in Les Gets this winter, and the resort will be hosting a stage of the Sled Dogs World Championships in January 2017.
A skibob is a bicycle-type frame attached to skis instead of wheels. This activity is available all winter in the Espace Diamant.
It costs €25 to hire a skibob for a half-day. An introduction with an instructor costs €39 per hour.
Espace Diamant will also host the first French stage of the Skibob World Cup from 26–28 January 2017.
Morzine-Avoriaz has the first slope in France dedicated to yoga for skiers. Skiers can practice 10 yoga postures along the run, either on their own or with the ESF. The ESF organises introductions to ski yoga every Sunday afternoon.
In Le Grand Massif, an environmental observatory has been set up by the Flaine ski resort to list the biodiversity over its 1,400ha. Skiers can take part in sessions to observe and learn about the local fauna. Sessions taking place at the top of the Mélèze run every Sunday from 13.30–16.00 and at the bottom of Le Desert Blanc chairlift every Monday from 09.30–11.30.
Pralognan la Vanoise also organises sessions to discover the local flora and fauna.
Aussois in the Maurienne valley is offering a fun new activity – the horse board! Participants sit on a rubber ring and are pulled by a horse on a secure circuit.
This winter, Châtel Aventure will open four of its seven acrobatic circuits for the first time.
Also for the first time this winter, La Plagne will open the Supertyro – a zip wire linking Plagne Aime 2000 to Plagne Centre. Zip down at a speed of 80–90km per hour!
Valmeinier offers free warm-up sessions at 2,400m. Several sessions of four to six minutes are organised throughout the day, supervised by a fitness coach. After the sessions, participants can enjoy a hot drink with the ski patrollers. The aim of this activity is to inform skiers and snowboarders that it is important to warm up in order to be fit to avoid accidents.
Ski Cool in Val Thorens is bringing back monoskiing. Hugely popular and fashionable in the '80s, the sport is making a comeback this winter!
Liberty Ride is an area in Courchevel dedicated to freeriding. At 1.3km long, and with a vertical descent of 350m, the area is not groomed but is secured. Courchevel also organises l'Avalanch'Camp to teach riders about the mountain environment and off-piste skiing.
In Morzine, the Easy2Ride Ski and Snowboard Academy has launched a free Ski Academy with Xavier Bertoni, winner of the X Games, as its godfather. Beginners will be able to try the Big Air and take part in events organised by top French riders such as Kevin Rolland, Romain Grosjean and Jules Bonnaire.
Hire a slope by night! In Manigod, part of Lake Annecy Ski Resorts, visitors can hire a slope for the evening for €290.
For more information, visit savoie-mont-blanc.com.