The top reasons to ski in Idaho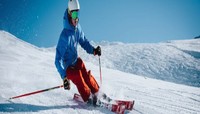 The calmness and beauty of snow-covered mountains have a mesmerizing appeal comparable to nothing else, offering a silent recluse to all skiers and snowboarders.
As a ski destination, Idaho is a hidden gem, and its gorgeous mountainterrain has not yet been overcrowded with tourists. You get to experience the thrill and excitement of skiing and snowboarding on the snowy mountain slopes with picturesque backcountry views and luxurious ski resorts.
If you're still not convinced, we're here to point out the top nine reasons to ski inIdaho. Sit back, relax, and let us guide you through the prime skiing attractions that Idaho has to offer.
9 Reasons To Go Skiing In Idaho
1. Attractive Ski Resorts
What's the point of going skiing if you can't explore the comfort and luxuries of a skiresort? Idaho has a wide array of ski resorts, allowing you to explore the stunning snow-covered mountain terrainsprawled across 18,000 acres and at 21,000 feet.
Sun Valley is a popular ski resort because it's the first destination skiresort in the country that opened back in 1936. Several travel magazines also named it one of the best ski resorts in the US. It has 18 lifts, 121 runs, an outdoor ice rink, and gets an average snowfall of 220 inches every season, making it a much sought-after destination.
However, if you want to avoid the crowd and enjoy a silent vacation, try out Tamarack which has 50 runs with steeps, groomers, and glades for skiers of every level. It also receives 295 inches of snow yearly.
You can even visit Schweitzer, Bogus Basin, and Pomerelle resorts that offer exquisite views, skitrails, and thrilling mountain coasters to enjoy the white, snowy paradise. But if you ask us, we would recommend going to Brundage because… To know that, read the rest of this guide.
2. Excellent For Cat Skiing
If you want to enjoy the flavors of thebackcountry without paying a hefty amount for heli-skiing, Idaho proves excellent for cat skiing. Head to the mountaintop in a snowcat and then ski downhill on gorgeous fresh runs.
At Brundage Mountain, you can enjoy a guided cat skiing trip to the Payette National Forest and explore three mountain peaks to experience the beauty of the place. You can also go to Selkirk Powder at Schweitzer Mountain or stay overnight at the Smokey Dome Yurt in Soldier Mountain for some thrilling adventure sports.
3. Home Of Heli-Skiing
Sun Valley in Idaho was the first commercial skiresort in the US, and it's also known as the birthplace of the popular heli-skiing. You can access the ski areas of Dollar Mountain and Bald Mountain from Sun Valley, known for their gorgeous mountaintrails.
Moreover, the Schweitzer Mountain Resort offers thrilling group heli-skiing and snowmobiling services to all skiers and snowboarders based on their skill and experience levels. You can even check out the High Mountain Heli-Skiing Resort in the Teton Range, which has more than 305,000 acres of snowy mountainterrain perfect for heli-skiing.
If you can't go to Brundage, stay at the Teton Springs Lodge And Spa, where the helipad is located right outside your hotel room to enjoy heli-skiing in Idaho.
4. The City Of Boise
As the capital city of Idaho, Boise is one of its prime attractions, featuring fun pubs, microbreweries, cozy bistros, and cute condos. It's an excellent place to chill and hang out while exploring the state's culture.
According to Forbes magazine, Boise was also the fastest-growing city in the US in 2018. Whether it's the snow-capped mountain backdrop or the authentic microbreweries, Boise is the most happening city in Idaho.
5. Steaming Hot Springs
Nothing can be more relaxing than taking a dip in a hot spring after a long day of skiing in the snowy mountains. Idaho has a plethora of hot springs, from the mineral-rich pools at the Lava Hot Springs to the natural hot springs at Trail Creek in Payette Forest. You can also check out the natural river pools of the Kirkham hot springs.
6. The Art Town Of Ketchum
If you're an art enthusiast, you can't miss the charming mountain town of Ketchum, only a mile away from Sun Valley. It's packed with beautiful art galleries, restaurants, cafés, and shops tucked in the lap of snowy mountain ranges. Ketchum even offers world-class delicacies, from vintage wines to mouthwatering wood-fired pizzas.
7. Mesmerizing Gondola Rides
At the Silver Mountain Resort in Kellogg, enjoy the country's longest gondola ride (3.1 miles). It takes you to the hub of winter adventure sports, such as skiing, snowboarding, Nordic skiing, snow tubing, and snowshoeing. You can also bunker down at Silver Rapids and share a cozy evening with your partner.
8. Starry Night At Schweitzer
While skiing during the day on the snowy mountaintrails sounds thrilling, hiking in the snow-covered forests under the sparkling stars can be magical. At the Schweitzer Mountain Resort, you can experience a mesmerizing moonlight hike through the forests and warm up with some delicious hot chocolate at Gourmandie.
9. The Historic Town Of Wallace
Wallace is an old mining town, and it's the only town in the country listed on the National Historic Registry because of its rich history. You can spot microbreweries, independent stores, and mining museums across this historic mountain town.
Idaho Offers Incredible Skiing
The stunning mountain towns, cozy hot springs, and art galleries make Idaho an ideal vacation spot for skiers and snowboarders. There's no lack of recreation in Idaho for anyone looking to spend a few glorious days amid snow-capped mountains.
Not to mention, you get to enjoy the facilities of some of the best ski resorts in the country, such as Brundage, while experiencing the untouched beauty of the places. So, what are you waiting for? Pack your bags and get ready to hit the road today!