2 invigorating winter activities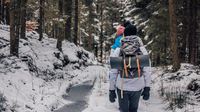 Ah, winter. It's the season where most people turn inward to hibernate, waiting out the cold weather until spring arrives. However, spending so much time indoors can get pretty boring after a while. Have you exhausted your Netflix account? Has that "Are you still watching?" screen popped up on your TV a few too many times recently? Well, you're not alone — most people are spending a lot of time inside their homes these days. There aren't too many places to go right now because of pandemic lockdown regulations.
However, you still have the great outdoors to explore. The winter is the perfect time of the year to get in touch with Mother Nature. We've created a list of two stimulating outdoor activities to try this season. So, put that remote down, get off the couch, and bundle up! You're about to embrace a whole new appreciation for winter.
1. Snowshoeing
Are you searching for new exercise ideas? Snowshoeing provides an incredible cardio workout. You can burn more calories per hour snowshoeing than running or walking because you're lifting your legs higher trekking through the snow. There's more resistance to power through when you wear snowshoes. It's also great for strengthening your lower muscles, such as the glutes, thighs, and calves.
You'll also have the chance to experience your area's local natural wildlife while out on the hiking trail. Snowshoeing encourages you to slow down as you walk because of the shoes' exaggerated size. As you walk through the path and see birds, animals, and plant life all covered in snow, you'll witness the stillness of winter in its natural context. It will feel good to get out of the house and reflect on a very meditative time of year.
2. Cross-country Skiing
If you're more of a skier than a walker, consider taking up cross-country skiing as a new hobby. Similar to snowshoeing, it provides an excellent cardio and muscle-strengthening workout. Cross-country skiing is more athletic than snowshoeing because you generally move faster, so if you'd rather experience more vigorous physicality in the great outdoors, this type of activity is for you.
Don't Get Cold
When preparing for your day outdoors, something essential to remember is to keep warm. Dress in layers and wear an insulated jacket to trap heat next to your body. Socks are one of the most critical components because you want to keep your feet warm at all times, avoiding the risk of frostbite. Check out Heat Holders thermal socks to find socks that are seven times warmer than the average cotton model. They provide high-quality thermal socks that will keep your feet nice and toasty for those long, invigorating adventures in the snow.
Staying inside and watching TV is fun for a little while, but it can quickly get old. And, not to mention how bad it is for your health. Sitting on the couch for hours is dangerously harmful to your back and emotional wellbeing. Try one of these outdoor activities this weekend and enjoy all of winter's healthy and fascinating pleasures.