3 safety tips for your winter snowmobiling adventures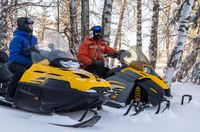 Winter may not have the plethora of activity options the summer has. You may not be able to pop down to the golf course for a quick 18 holes or bike through the forest trails on a warm evening. But there's one thing winter has over the summer: snowmobiling season.
Snowmobiling can be a terrific way to explore the great outdoors during the winter months, whether you are racing, hunting, or just tearing around the property with family. With its sleek design and agile handling, a snowmobile lets you explore off-the-beaten-path areas in a fun, easy way.
However, while snowmobiles are generally safe for the entire family, there are a few precautions you should take. As peak snowmobile season arrives, it's well-advised to review a few pertinent safety tips before you rev your engines. Here are three key things to keep in mind as you hit the snow!
Start the Season with Preventative Maintenance
A lot can happen to a stationary snowmobile in the span of a year. Rather than risk getting stranded in the middle of a snowbank, start the season with preventative maintenance.
Take the vehicle to a trustworthy local repair company that specializes in snowmobiles. Let them inspect the vehicle, and ask them if there are any snowmobile parts you might need for the upcoming winter. They may point you in the direction of new tracks, sprockets and oils – or they may tell you that everything is working just fine.
At the end of the day, it's better to be safe than sorry. After all, preventative maintenance is still less expensive than a major repair!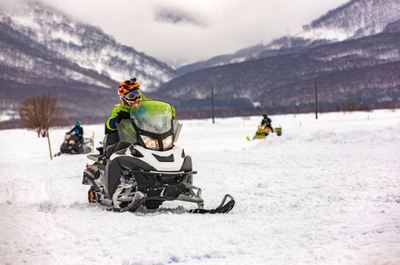 Get the Right Gear
When snowmobiling, you need to protect yourself against two things: accidents and the elements. Here's a brief list of essential gear that every snowmobiler should own:
- A full-face helmet (with a visor to keep the sun out of your eyes)
- Insulated gloves
- A flexible, water-repellent and insulated jacket
- Thermal, water-resistant and oil-resistant boots
- A phone with a full charge, in case you need to call for help
When you take your snowmobile in for maintenance at the start of the season, bring along a checklist with the first four items above. A quality company that services snowmobiles should have each of these items on hand to purchase.
Check the Weather Forecast Beforehand
This is a simple step, but it can be very consequential. Before you head out for a day of riding – especially if you plan to be out the entire day – check the weather forecast. If the forecast calls for inclement, stormy weather later in the day, make sure you race back before it gets unmanageable. If the entire day is rough and unsafe, take the loss – there's always tomorrow!
Snowmobiling is one of winter's greatest joys, but you have to approach it safely. Take your snowmobile in for preseason maintenance (or, if the season's start has come and gone, service it at your earliest convenience.) Gear up with protective, insulating and water-repellent snowmobile products. And check the weather before you hit the trails. Here's to a safe, fun snowmobiling season!