5 unmissable points of interest in Monaco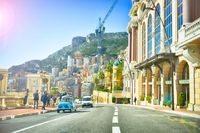 If you're planning a trip to Monaco this year, you'll want to know which of the top attractions and points of interest are worth your time. It might be the world's smallest country but what it lacks for in size it certainly makes up for in things to see and do. Here are five places you shouldn't miss off the to do list when you're planning your trip.
The Prince's Palace
You'd expect the official residence of the Sovereign Prince of Monaco to be an outstanding sight, and you'd be correct to do so. Although from the outside it may seem rather understated, once you're in you'll walk through columned courtyards and apartments that are kitted out with flamboyant décor including priceless works of art that are owned by the family. The daily changing of the guard takes place at 11.55am in the front square, and it's a good idea to purchase tickets in advance to avoid the likely queues.
Monte Carlo Casino
Splash your cash at one of the world's most famous casinos situated in the principality of Monte Carlo. The casino is the definition of lavish with rooms decorated with marble columns and chandeliers that hold classic games including blackjack and roulette. You can even have a flutter outdoors on the terrace before heading to one of the many bars or restaurants to complete your James Bond-esque experience with a martini that's shaken and not stirred.
Jardin Exotique
For over 75 years, those at the Jardin Exotique have been collecting the rarest varieties of exotic plants. Situated on a Cliffside, the garden offers spectacular views of the Mediterranean sea while you discover their world-class collection of cacti and succulents that date back from the last century. Your ticket will also include entry to a garden cave that has stalactites and stalagmites and museum of prehistory.
The Oceanographic Museum
The Musée Océanographique de Monaco was founded by Prince Albert I in 1910, and since then it has grown to include around 90 tanks that contain at least 450 Mediterranean and tropical species. The building itself is placed rather dramatically on the edge of a cliff, which is a site in itself, but once inside you'll see the centrepiece aquarium that has a 6-metre deep lagoon that's home to sharks, marine predators and tropical fish, separated by a coral reef. If you're visiting with the little ones, there are free light shows in the Salle de la Bileine and feel-the-fish sessions that you can get tickets for at the entrance.
Larvotto Beach
Is Larvotto beach the most glamorous in the world? Come and see for yourself. Its clear blue waters and soft sand are completely Instagram-worthy, particularly if you include the backdrop of Monaco's luxury apartment buildings. During the high season of July and August, it might be hard to find a place to lay your towel, but you can always wait for the perfect sun spot in one of the lounge-bars that are dotted along the beach. Keep your eyes peeled for some celebrities while you're here!
Once you've visited Monaco, it will be hard to get it out of your mind. So much so that you may even consider relocating here! If that's the case, you'll need professional Monaco Relocation Services to help you find the perfect home away from home.