Turn bored kids into board kids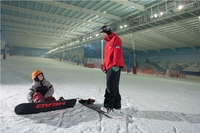 If you're lucky enough to have a snowsports holiday booked for Easter you can look forward to some excellent snow conditions in the Alps – but make sure you're snow-prepared before you go!
An hour or two reminding your leg muscles just how to cope on the slopes will help ensure that you don't waste precious hours on the nursery slopes when you could be enjoying the mountains. And if you've never skied or snowboarded before - book some lessons before you go! It will make such a big difference to your enjoyment to arrive prepared and snow-confident.
The Snow Centre at Hemel Hempstead boasts the 'best real snow this side of the Alps' and offers a choice of lessons to suit all levels of experience from complete novice right up to one on one instruction to perfect your parallel turns. They also offer recreational sessions on their 160m slope to give you a 'real snow' taster in preparation for your holiday.
And if you're NOT heading for the Alps over Easter – there's no reason why you (and especially your kids) shouldn't miss out on the snow!
The Snow Centre offers a choice of Easter courses for all ages designed to teach and develop children's skills and technique with extended one or two hour sessions over four days in either skiing or snowboarding. They even offer lessons in Freestyle and your kids can have fun hitting kickers and rails, learning more tricks and improving their style on the snow. Your bored kids will become board kids in less than a week!
Available for 4-6 year olds, 7-10's and 11-16 year olds the courses will give your kids snow confidence in a fun, safe environment. Highly qualified BASI instructors teach small groups that encourage progression and will inspire even the youngest snowsports enthusiasts.
Ideally situated just off the M25 and easily accessible by public transport the Snow Centre offers an impressive full groomed main slope combined with the UK's largest indoor lesson slope. Mums and Dads can relax in the warmth of The Edge café overlooking the slopes whilst their children enjoy the snow.
Easter courses cost from £40 (based on two one hour ski lessons for 4-6 year olds). Snow Centre members benefit from discounts on these prices. thesnowcentre.com.