Gstaad launches new Alpine Experiences for winter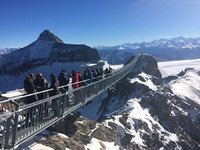 This winter season in the Swiss resort of Gstaad is shaping up to be an exhilarating one. With brand new adrenaline-packed experiences, an extended ski pass and a new Winter easyaccess card that is more affordable than ever, Gstaad has never been more exciting and accessible.
New Alpine Experiences in Gstaad:
New Peak Walk by Tissot: The first hanging bridge in the world connecting two peaks opened on Gstaad's Glacier 3000 on 25th October. Known as "The Peak Walk", the 107-metre bridge at 3000m is open year-round, free of charge. It offers views of 24 summits over 4,000 metres, including Mont Blanc, the Matterhorn and the Bernese Alps. The Peak Walk begins at the View Point and ends up at the Scex Rouge peak.
Splitboarding: When it comes to winter sports, Gstaad is always a step ahead of the game. This winter's latest craze is SplitBoarding - a splitboard is a snowboard that can be separated into two ski-like parts - which is ideal for off-piste snowboarding. The splitboard allows snow lovers to climb up hills the way skiers can (unlike snowboarders), and makes the off-piste skiing experience all the more appealing.
Piste Basher Experience: When ski lifts and cable cars close in the afternoon, it's time for piste bashers to prepare the slopes for the next day. In Gstaad, visitors can gain first-hand experience on how to co-drive a "PistenBully", alongside a pro, and put their talent to the test ensuring the slopes are groomed to perfection. The adventurous co-driver will receive a diploma at the end of the ride as proof of their newly acquired skills. Suitable for both children and adults.
Night Skiing: Carve down the slopes on a floodlit ski run on Wispile and Rinderberg mountains after sunset. Winter sports lovers who can't get enough action during the day, are given more time to enjoy the slopes, where snow bars and alpine huts stay open till late, replenishing hungry night skiers with local specialities. Night skiing on Wispile will be available on 23rd and 30th December 2014 as well as on 18th and 25th February 2015 from 19:00hrs to 21:30hrs. Slopes will also be open on Rinderberg from 18:00hrs to 21.30hrs on 27th December 2014, 3rd January, 19th and 26th February 2015.
Family Fun Slope: Gstaad offers freestylers thrilling slope-style action in its three snow parks to suit every level. From 29th November, the alpine region will see the opening of the first ever Fun Slope for families in the Bernese Oberland on Mount Hornberg. Both parents and kids can spin down through curves, ice bridges and tunnels and make the most of a family day together on the pistes.
More Accessible Gstaad: New SuperPass to encompass 630 km of slopes and Winter Easy Access Card
This winter, Gstaad and the neighbouring ski resort of Les Alpes Vaudoises, have extended their ski pass - the 'SuperPass' - to include the ski area of Adelboden-Lenk. This allows skiers to access three regions and 630 km of pistes, which offer a varied ski terrain, including plenty of mileage on long scenic slopes. Prices for a 4-day adult pass start from CHF 242 (approx. £158).
To make the resort even more accessible, the new "Winter easyaccess card" gives visitors access to all public transport in Gstaad and Pays D'Enhaut when staying for a minimum of three days. From as little as £14 per adult (or £7 for those between 6-16 years of age), holiday makers can also keep warm with a free spin at the local ice rink, use the Gstaad Sports Centre indoor swimming pool and access all cross-country skiing pistes. This also includes one return cable car return ticket per day for hikers or tobogganers. The Winter easyaccess card is valid from 1st December 2014 to 30 April 2015.
For more information, visit gstaad.ch.