'The Lanterns' lights the way for young couples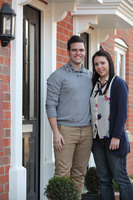 The average age of the first-time buyer is now 38 – and the typical deposit on a property is more than half the average income. With headlines like these you would have thought that couples would be put off buying a new home, but for Lloyd Pollock and Lydia Girardi purchasing a new home in Irthlingborough was easy thanks to the assistance of Bloor Homes.
When Lloyd and Lydia came to the decision that they wanted to set up their first ever home together, they were unsure of the type of property they would like to buy. To either go for an older property, that would need money interjected into it and which they didn't really have, or to buy new. When they saw the homes being built by Bloor at The Lanterns, and with all the finishing touches already in place, it was no contest.
For Lloyd 25, who at the time was renting off a friend, and Lydia 23, who was living at home, the prospect of buying their first home together was very exciting. Not only did they know the area well but for Lydia, The Lanterns brings back happy memories. For her father had worked for over 15 years on the site formally owned by a company who manufactured caravans.
"We fell in love with The Oxbridge, a 3 bedroom semi-detached three story property and it was the space upstairs that really attracted us. We could move in, not do anything major and it felt like home within a couple of days! It was wonderful," comments Lloyd.
Downstairs the property benefits from a lounge, spacious kitchen/dining area with French doors leading out onto the private and secluded garden, separate utility and downstairs cloakroom. The first floor has 2 double bedrooms and family bathroom, whilst the master bedroom with large dressing area, additional storage and en-suite is situated on the second floor.
"Bloor made it very easy for us and were always there to answer any questions we might have. They even turfed the garden and carpeted the house throughout, which just completed the whole package." Lloyd continues, "As I travel a lot with my job as an LED Light Salesman, it was important for me to know that Lydia was not far away from her family and friends, so the location is just perfect. With the excellent road links it makes my journey and Lydia's, who is a Nurse, so much easier."
Irthlingborough, with its wonderful community spirit, is a town that can provide for every day needs with a supermarket and local independent shops, while nearby Wellingborough caters for those looking for high street brands. For the sporting enthusiast the stadium is home to a range of facilities and activities and there is a great golf studio and study centre for school children.
Located midway between London and Birmingham, East Northamptonshire is central, well connected and cost effective. Kettering, Rushden, Corby and Wellingborough offer excellent road and rail links with St Pancras just 50 minutes away. The A14/45 and M1/M6 provide easy access to many of the major cities.
Prices at The Lanterns start at £119,950 for a two bedroom home. For further information, visit bloorhomes.com.