Lamborghini Aventador J steals the thunder at Geneva Motor Show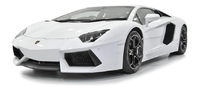 The much awaited protege of the Lamborghini Aventador saw the light of day at the Geneva Motor Show. Such an exciting follow-up to an already electrifying supercar created a lot of energy.
Some of the loudest whispers in the speculation that surrounded the expected debuts at this years Geneva Motor Show focussed on what the Italian supercar works would bring to Switzerland this year. In 2011 the master craftsmen from Sant Agata Bolognese stunned the motoring world with the explosive launch of the Lamborghini Aventador. Expectations that they would surpass this in 2012 centred on some new form of Aventador, quite possible a roadster or some other open-air version of the Aventador platform.
Aficionados of the Raging Bull marque were not disappointed with what Lamborghini had in store for them this year. The Lamborghini Aventador J was revealed in all its splendour. The Aventador platform has provided an excellent springboard for this model, which is exceptional in the flesh.
The carbon fibre monocoque has been completely redesigned as has the chassis. With the existing Aventador 6.5 litre V12 engine in situ, the power to weight ratio has been significantly improved whilst the integrity of structural rigidity maintained. The enhancements however are more striking than just in the statistics. This is so much more than merely a roadster version of its bloodline. This completely open-top sportster has even been constructed to mirror a track racer, with not even a windscreen. Complete with automated manual gearbox, it should be a real thrill to drive. This is completely in line with the critical acclaim awarded to the Aventador, by both privileged owners and the motoring journalists who have been lucky enough to review the car.
The visual aspect is undeniably a landmark in combustion vehicles, even from such a recently-released car. It has not just been a matter of redesigning to fit an absent roofline. The front and rear bumpers have added carbon fins to increase high-speed road-holding. Custom-made wheels have a fan design to improve brake ventilation.
However, there is one important detail which will only disappoint Lamborghini fans. Just like the 1970 Lamborghini Jota which provided some inspiration for the car, together with the J section of motor sport rules which govern racing cars, it was announced that only one of this spectacular road racer will be produced, and this was the show car itself. Unfortunately for everyone else, it has already been sold to the very fortunate owner, obviously for an undisclosed and stupendous price tag. There remains however an alternative to get the Aventador feel, and that is through Lamborghini hire.
Super Car Hire through Signature Car Hire will give you the chance to get behind the wheel of the Lamborghini Aventador. For that extra-special driving experience you get to feel like a star with a self-drive hire of this tangible supercar.
For more information, visit signaturecarhire.co.uk.