Vietnam food tour from Luxury Travel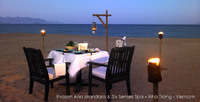 This 9 day food tour with Luxury Travel Ltd allows travellers to discover the fascinating culture, scenery and food of Vietnam, while staying at the best hotels and dining at wonderful authentic restaurants.
Gourmet travellers travel around Vietnam, from the South (starting in Ho Chi Minh City), to Central Vietnam (with the highlights of Hue and Hoian) and ending in the North (Hanoi).
It is said that Vietnamese culture expresses itself differently in these three parts of the country. This is clearly reflected in the culinary life of local residents in each area.
"The food is one of the most enjoyable things about the Asian continent and Hanoi is Asia's 10 greatest street food cities for sure. During the tour, travellers will discover the fascinating landscape and taste traditional Vietnamese food in the best authentic restaurants. Nothing is more wonderful than combining these dining adventures, along with luxury accommodations at 5-star hotels, where you can experience Vietnam-style service." said Pham Ha founder and CEO of Luxury Travel Ltd.
Luxury Travel Ltd is a long established specialist in luxury privately guided and fully bespoke holidays in Vietnam, Laos, Cambodia, Myanmar and Thailand. Luxury Travel is excellent in designing tailor-made tours and providing unique travel experiences to fulfill the most sophisticated traveller's expectations. Luxury Travel Ltd won numerous travel awards for excellent performance including the most recent award: Best Luxury Tour Operator in Vietnam.