Yorkshire Sloe Gin proves to be a real work of art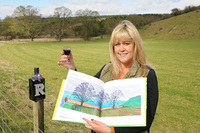 The makers of an award-winning Yorkshire sloe gin have discovered the fruits of their labour came straight out of a Hockney landscape painting!
Julia Medforth, owner of Raisthorpe Manor Fine Foods, near Malton, North Yorkshire recently learned that the trees under which she forages for sloes for her gold medal winning gin is the exact spot depicted by the great artist in one of his Yorkshire landscape paintings, displayed for the first time at his groundbreaking show at London's Royal Academy of Arts.
Raisthorpe Manor, which produces an award-winning range of traditional drinks, unique liqueurs and luxury preserves and chocolates, prides itself on sourcing ingredients from the farms, fields and hedgerows in and around the 1,500 acre estate, in Wharram - at the heart of the rolling Yorkshire Wolds where Hockney spent his youth.
"We couldn't believe it when we saw the painting in the Hockney show catalogue and realized those same three trees were the ones that bordered our land, where we regularly gather ingredients for our liqueurs" says Julia. "It's amazing to feel you're living and working inside a famous artwork - especially one by one of the most influential British artists of the 20th century!"
Raisthorpe Manor's Sloe Gin, which won gold in the Sloe Gin Awards last year, is just one of 10 liqueurs produced at the picturesque estate. "We have a shooting lodge on the farm and after the shoot the parties would always come back for a tot of homemade raspberry gin liqueur or sloe gin!" says Julia. "The recipes had been passed down to me through my family and always went down very well, so it seemed a natural progression to try rolling it out as a business venture."
And it's turned into quite a success, with a raft of awards including a Great Taste Award 2010 and 2011 for Raisthorpe's Whisky & Blackcurrant Tipple, Raspberry Gin Liqueur, Sloe Gin, Shoot Shots Sloe Gin, Damson Gin Liqueur and Orange Liqueur Jam, a Yorkshire Post Taste Award for its Raspberry Gin Liqueur, and a 2012 Deliciously Yorkshire award for 'Best New Product' for its Sloe Port.
The 'David Hockney RA: A Bigger Picture' exhibition - to which the Duchess of Cambridge has recently paid a visit - spans a 50 year period of Hockney's long exploration and fascination with the depiction of landscape, with the main focus being a body of new work created by him over the past six years, which depicts his favourite parts of Yorkshire.
For more information, visit raisthorpemanor.com.