Self-catering spring city breaks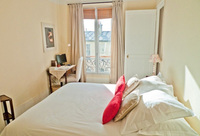 The clocks have gone forward, the trees are in bloom, the sun is shining, so what better time than now to go on a short weekend break? Spring is ideal for a European city visit as most destinations are at their best, so whether it's romance in Paris, tulips in Amsterdam or history in Rome, book your holiday now and choose from more than 17,000 city centre apartments in Europe available to rent on HomeAway.co.uk.
Holiday rentals provide fantastic value for money, with more space, privacy and flexibility than hotels, plus a more authentic travel experience. Research from HomeAway.co.uk shows rentals can work out up to half the cost per head of similar standard hotels. Cut accommodation costs with a holiday rental and you'll have plenty left to splash out on some nice excursions, shopping and meals.
HomeAway.co.uk has handpicked the apartments below in Paris, Amsterdam, Rome and Madrid, ideal for either a romantic break or a group getaway.
Prices quoted are per property per night for spring and correct at the time of going to press.
Paris
Bright rental apartment in the heart of Montmartre
1 Bedroom, Sleeps 4. £142 per property per night
The apartment is bright with vibrant accents, wood floors, oriental rugs, and soft fabrics that add warmth and depth to the décor. Decorating the rooms are drawings of street scenes of Paris, vintage cover prints from "Le Petit Parisien" and other wonderful antiques. Located within walking distance of Sacre Coeur and within reach of all major tourist sites.
HomeAway.co.uk/p616393
Amsterdam
Modern apartment close to the city centre
1 Bedroom, Sleeps 4. £105 per property per night
A modern, light apartment only 15 minutes walking distance from the main station and 10 minutes from the Dam Square. The property features an open-plan living area with fully equipped kitchen and a cosy bedroom.
HomeAway.co.uk/p862575
Rome
Elegant apartment in Trastevere
2 Bedrooms, Sleeps 6. £113 per property per night
Elegant and inviting apartment refurbished in a modern, sophisticated way. Completely remodelled, it features beautiful wooden floors, modern bathrooms and all amenities and is located within walking distance of the Campo dei Fiori, Pantheon and Piazza Navona. It also features a small balcony overlooking the street.
HomeAway.co.uk/p848611
Madrid
High-end stylish apartment in the centre of the city
3 Bedrooms, Sleeps 6. £401 per property per night
With an ultra-modern, high quality décor and fantastic location in the heart of the city, the apartment offers a truly unique experience for those looking to immerse themselves in the glamour and energy of this vibrant city. Located in the middle of calle Fuencarral, and with over 400 square metres of contemporary space, and a strong focus on stylish open-plan living, the apartment really is one of a kind in one of the best locations in Madrid.
HomeAway.co.uk/p978942