A natural solution to maintain normal cholesterol levels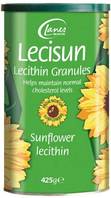 High cholesterol continues to be a medical condition at the top of the news agenda with changes to diet and lifestyle as the first line of defence for many when it comes to treatment.
LanesHealth, UK family healthcare company, has been making Lecigran, a natural food supplement for those seeking to maintain normal cholesterol levels, for over 25 years. The key ingredient in Lecigran is lecithin derived from soya beans. This year in response to global production challenges in sourcing non-genetically modified soya Lanes Health has introduced a new product formulation derived from sunflowers.
The new product, Lecisun, offers the same benefits as Lecigran but comes from sustainable sunflower crops which unlike soya has not been genetically modified. Lecisun contains an ingredient called lecithin which is a complex mixture of natural chemical compounds called "phospholipids" which consist of fatty acids and a phosphate group linked to choline and inositol. Lecisun offers more phosphatidyl choline per serving than soya based products. It is also a rich source of linoleic acid which plays a vital role in helping maintain normal cholesterol levels.
Lecisun is a new product in the market offering the first sunflower based formulation to help maintain normal cholesterol levels. The product fits easily into consumer lifestyles and can be sprinkled onto all kinds of foods without affecting the taste, or it can be taken directly if preferred.
Jonathan Groves of LanesHealth said: "Lecisun is a perfect complement to our popular Lecigran product and we are delighted to offer a product from a natural source which is free from the issues facing soya production so we can continue to meet consumer and trade demand."
Lecisun is available in a 425g tin through specialist Health Food Trade Wholesalers including Tree of Life and HSP priced at £38.09 for a case of six with a RSP of £11.72.