New luxury cycling tours in the New Forest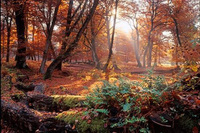 Capital Sport have introduced a selection of self-guided tours in the New Forest and Dorset. Everything is taken care of: expertly planned, gentle cycle routes; luxurious, handpicked hotels in historic towns and villages; top-of-the-range hybrid bikes; and (thankfully) no heavy panniers – your bags are transferred daily.
The five new tours start from Burley, a short taxi ride from Brockenhurst, which is only 1.5 hours by train from London. Capital Sport's 25 years' experience running cycling holidays in the UK and specialist local knowledge mean the five new tours encompass the best, tried-and-tested routes in the region (including all the secret tracks and hidden gems). And if you're a bit wobbly on your bike, there's no need to worry about hills or lorries thundering past – these routes are largely traffic-free and virtually flat. This is perfect cycling country, which you'll explore at your own pace.
Wendy Carter, owner of Capital Sport, says: "This is gentle cycling for people who essentially want to see, hear, feel and smell the atmosphere of the place. The forests are magical and there's so much variety and detail within short distances – woodland, islands, coast, historic houses, sand, panoramic views, maritime history, unspoilt and charming rural Dorset, pretty villages, cosy pubs and woodmen's cottages. You'll also usually meet locals going about their business."
This isn't an Olympic road race: your leisurely ride from one place to the next will allow plenty of time to see a wide variety of sights, from free-roaming horses and deer in the New Forest to the National Motor Museum and a Michelin-starred restaurant at Beaulieu to picturesque Bucklers Hard and the historic maritime town of Lymington. Some tours bring you across to the Isle of Wight, while others take in unspoilt Dorset, the sandy beaches of Studland or venture further afield to Stonehenge.
Capital Sport meticulously prepares and tests every itinerary. You'll cycle on an astonishing variety of route types, from rugged cliff tops, scenic beach paths and spectacular sand spits, to beautiful bridleways, disused railway lines, peaceful forest tracks and quiet country lanes – in some tours up to 70% of the route is off-road, making these ideal for adventurous families too. You'll pedal down ornamental drives and old Roman roads, and ride alongside estuaries, rivers and farmland, through a rare wildflower meadow and across fords, hopping on the odd ferry too.
And if that still sounds too strenuous, why not upgrade to an electric bike?
Previous customer Elisabeth Hoskins said: "We had an amazing time on our bike ride! The instructions were great and so easy to follow and we love, love, loved the paths we took - it was just gorgeous! All bikes were great and our host was a star. I will definitely be recommending you to my friend."
Overnight stops are in carefully chosen villages and towns, staying in the area's finest accommodation including a riverside priory, historic manor house and stylish boutique hotels.
You'll be doing your bit for the planet too, with a car-free, flight-free holiday.
So why not use the money you've saved on expensive airfares and treat yourself to a bit of luxury here in the UK? Capital Sport will look after the planning. All you need to do is turn up and pedal.
Prices start at £845 for a five-night self-guided luxury Stonehenge and New Forest tour, including bed and breakfast, bike hire, luggage transfer, OS maps, emergency call-out service and a friendly host. Classic tours follow the same routes staying in affordable inns and small hotels, with prices from £630.
For more information or to book, visit capital-sport.co.uk.