Take the plunge in Murcia this spring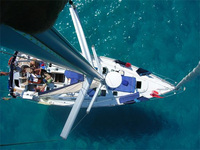 As a nation of seafarers Brits can't wait to get out on the water, and while it's still too cold to get wet in the UK, the Spanish Region of Murcia offers a fantastic warm-weather location for a variety of watersports and diving.
The stretch of Mediterranean coastline in south-east Spain known as the Costa Calida, or warm coast, boasts year-round sunshine, making it ideal for a host of activities including sailing, windsurfing, kayaking and water-skiing, with expert tuition available.
Alternatively, those not ready for open water can take advantage of the protected setting of the Mar Menor - Europe's largest salt-water lagoon. Separated from the sea by a 22km-long sandbar, it covers 170km2 and offers shallow, wave-free waters, creating the perfect environment to hone your skills, and one which is often used as a winter training base for national sports teams.
Those more at home under the water, rather than on top of it, will be glad to know the Murcia coastline is home to some of the finest diving experiences in Europe. The dive sites from Cabo de Palos and around the Hormigas Islands are relatively undiscovered by tourists and rich with shipwrecks to explore, by day or night. These waters, together with those at Mazarrón and Águilas, are home to some of the Med's finest underwater scenery and marine life.
Specialist operator Estacion Nautica Mar Menor - Cabo de Palos offers a variety of packages which can be tailored to suit any needs. During April accommodation is available for as little as €66 per person for six nights, based on six people sharing a bungalow at Caravaning La Manga.
Alternatively, a week for two in a one-bedroom apartment is available for as little as €125 per person or seven nights sharing a twin room in a hotel costs just €200 per person.
The company's range of activities includes an introduction to sailing for just €90, scuba diving for €60 and a Nautical Baptism package which includes sailing, windsurfing and kayaking for adults and children as young as eight-years-old for only €80.
Those wanting to enjoy the waters in a more leisurely fashion can charter a three-hour skippered cruise, for up to seven people, for just €150.
For more information on these packages, or to book, visit enmarmenor.com.
To learn more about the Region of Murcia's facilities for watersports and diving in the Mar Menor and Mediterranean Sea visit murciaturistica.es.