Carbon negative luxury in the Scottish Highlands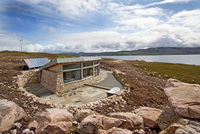 One Off Places has announced the launch of Croft 103, a pair of five star eco dwellings in the northwest Scottish Highlands with sea loch and mountain views.
Wilderness, luxury and inspiration combine to make Croft 103 heaven for couples in search of dreamy isolation.
Croft 103 is made up two 5 star self-catering cottages both with stunning open views over Loch Eriboll and the mountains. They have been created with style and vision and effortlessly combine the traditional and the contemporary. Nothing at Croft 103 is off the shelf - from the door handles to the 7ft bed practically everything is handcrafted. Every aspect has been carefully planned and created using honest, natural fabrics and materials. Each cottage has two baths - both designed to accommodate two people - one of which is outdoors on the secluded patio area overlooking the sea.
Croft 103 is carbon negative - it produces more energy than it uses, through wind and solar generation. The buildings were constructed using natural materials and traditional building techniques, including sheep's wool insulation, woodfibre sheathing, tyre bales and solar collectors. The cottages are powered almost entirely by a small on-site wind turbine.
Tabitha Symonds, co-founder and director of oneoffplaces.co.uk, said of this brand new addition to the portfolio; `Croft 103 epitomises what One Off Places is all about. A stay in one of these cottages will really give you something to write home about; not only will your eco-conscience be clean, but here you can indulge in sensuous luxury at the very heart of the wilderness.`
Cape Wrath, where the cottages are situated, is a wild, remote and beautiful expanse and is one of the most dramatic landscapes in Europe. An abundance of wildlife and vast open space create an overwhelming experience. The village of Durness is surrounded by some of the best walking in the world and an endlessly fascinating environment, made for exploring.
Prices from £220 per night (minimum stay three nights) / £1200 for one week.
For more information on these and the other unique properties in the collection, including a truck conversion in Scotland, a colonial villa in Sri Lanka; a merchant`s house in Morocco; a treehouse in Somerset; windmills, eco houses, tents, tipis and yurts; visit oneoffplaces.co.uk.