A Beginner's Guide to Okinawan Bodywork Dynamics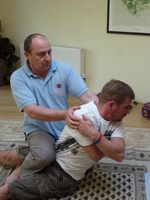 Alternative therapies such as Shiatsu that promote a holistic approach to treating mind and body are becoming increasingly popular in treating persistent health conditions, even those as serious as cancer. In his new book, Paul Jefferies, alternative healer and martial arts master, shares his knowledge of Okinawan Bodywork Dynamics, a form of Shiatsu that he has evolved over the past 20 years. Paul's past clients include a long list of high profile Premiership and England footballers as well as sufferers of a wide array of physical conditions and illnesses.
Paul comments: "The shortcoming of traditional medicine is often because it doesn't take into account that a healthy mind and a healthy body go hand in hand. All ailments are due to an imbalance between mind and body – for example a large number of my clients spend their working life behind a desk, which requires mental hard work but not physical activity, which creates the imbalance which can cause illness."
Using healing techniques based on Japanese practices that are thousands of years old, Okinawan Bodywork Dynamics (OBWD) is a therapy based on touch. The underlying philosophy is that energy (Chi) flows around the body through meridians or channels. If these become blocked it can cause an imbalance and ill health. By stimulating various acupressure points, tensions are released and the body and mind are harmonised, allowing the energy to flow, therefore encouraging physical and emotional wellbeing.
The 160-page book contains detailed advice on how to incorporate the principles of Okinawan Bodywork Dynamics into your lifestyle, with in depth tips on diet, breathing and relaxation techniques, creating a stress-free environment in the home, as well as meditation and visualisation. Basic exercises that can help promote the flow of Chi through the body are described with accompanying pictures. The book is aimed at anyone interested in exploring this type of therapy, but for would-be practitioners there is description on how to give the treatment and how to diagnose what pain in a certain body part signifies.
Paul treats clients with a wide array of conditions, particularly those with persistent symptoms, from the muscle and sports injuries of professional footballers, to conditions such as severe migraine, sciatica, depression, digestive problems and epilepsy. He has also worked effectively with cancer patients, for example Louise, who was suffering an aggressive form of cancer, had regular sessions with Paul, as well as undergoing hospital treatment. She describes one point in her battle with the disease: "My consultant was amazed that I could actually raise my arm above my head and that I was experiencing sensation in the area where the lymph nodes had been removed. This is very rare after such an operation and can take up to a year for sensitivity and good muscle range to come back. I can only put this down to the work Paul was doing in this area."
Paul comments: "My techniques are about healthy living in all aspects of life and listening to your body. When I treat someone, I am simply stimulating them to permit their own healing power to act. It is not a passive treatment - the individual is responsible for his own healing. When someone learns how to regulate the flow of Chi in his own body and achieve the balance between Yin and Yang, he will have mastered the key to health and longevity."
Client comments:
David Carpenter: "In 2009 I was diagnosed with Non Hodgkin Lymphoma. I underwent Chemo that year but in 2010 I was told that it had come back. At this stage I had been doing a lot of research into how to best deal with this and found many reports stating that the best way to prolong remission times is to make some important lifetime changes. Evidence shows that diet, sleep, Vitamin D and more exercise can help."
"I booked an appointment but was still not convinced that my type of problem was something Paul would be able to help me with considering that most of his patients appeared to be sports injuries. I should never have made that assumption. Paul has educated me and confirmed all the things I was reading about and more."
'Since seeing Paul and having undergone further Chemo, I have been back to see my Consultants after scans and they are thrilled and a little surprised with my results as the tumours appear to be shrinking.'
About the author
Paul Jefferies was the first Shiatsu practitioner in the UK to open a clinic on the high street and is one of a handful of Okinawan Te practitioners in the Western hemisphere. Paul became interested in martial arts at an early age and dedicated himself to studying the arts of Tai Chi, Qigong and Kobudo, reaching the highest title of Grand Master in Martial Arts last year. He treats his clients at his clinic in Bournemouth, which he runs with his wife Wendy, who teaches yoga classes.
'A Beginner's Guide to Okinawan Bodywork Dynamics' by Paul Jefferies is available priced at £24.99 from oki-bwd.co.uk or on Amazon or Kindle
ISBN: 978-0-9558470-1-1
ISBN-10: 0957141904