Alpine Digital Radio (DAB) adapter suitable for any car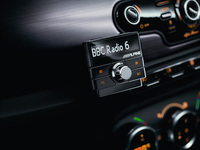 Alpine, manufacturer of automotive mobile media stations, has announced that it has launched a brand new, innovative digital radio adapter called the EZi-DAB.

The Alpine EZi-DAB is a professionally installed digital radio adapter for almost any car, designed to keep in-car clutter to a minimum. It connects to any existing car stereo providing outstanding digital radio reception as well as the ability to connect and control iPod, iPhone, iPad and many compatible USB devices. The unit is "Powered by Pure", the world's leading wireless music and radio systems manufacturer.

Keith Holness, Alpine's senior business manager, says: "The new EZi-DAB digital radio adapter allows almost everyone to add digital radio to their existing car audio system and provides a neat and classy solution to accessing more radio stations and much more listening choice.

We are proud to have collaborated with Pure on this project, as their reputation as leaders in digital radio is legendary."

Says Paul Smith, Pure's general manager: "We are delighted to be powering the new EZi-DAB and bringing our considerable digital radio experience to Alpine's leading car audio heritage. This is an important step forward for the sales of in-car digital radio adapters and will be a significant catalyst in helping digital radio switchover."

5 Colour Illumination

To ensure the EZi-DAB integrates seamlessly into any dashboard and look like it was always meant to be there, the control unit has a choice of five different illumination colours; green, amber, red, blue and white.

Discreet Antenna
To listen to digital radio, a special antenna is required. EZi-DAB uses a small, discreet windscreen film solution, where no cutting or drilling to your vehicle is required.

Full iPod, iPhone and iPad Control
In addition to digital radio, the EZI-DAB also offers the option to connect your iPod, iPhone or iPad and the EZi-DAB gives the ability to search and play the music via the car speakers. It also charges these Devices at the same time.

Works with USB Devices
The Alpine EZi-DAB enables you to navigate and listen to tracks from a USB flash drive, mobile phone or MP3 player with USB connection.
Dual Tuner
The EZi-DAB has a dual tuner so no need to keep re-tuning as you drive.
Forecourt Pause
The EZi-DAB gives the ability to hit the pause button before you remove your car keys, so that the broadcast or music is paused until you return for a maximum of 15 minutes. Great for when you're in the middle of listening to something you don't want to miss!

Pause and Rewind Live Radio
This allows you to simply pause live radio and continue to listen later, exactly where you left off, or rewind at 15 second increments.

Picnic Mode
EZi-DAB enables you to listen to digital radio with the ignition off and your car keys removed. Ideal for summer picnics or camping.
Pricing and Availability:
The Alpine EZi-DAB is available now with a Typical Selling Price of £249.99, which also includes the discreet window antenna. It is available through authorised Alpine dealers. To learn more about the EZi-DAB or to find an authorised Alpine retailer, visit alpine.uk.com.