Amoena unveils gorgeous new Autumn lingerie collection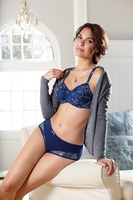 Leading mastectomy-wear specialist, Amoena, has unveiled its gorgeous new Autumn collection 'Justine', an attractive new line within its popular French Touch range, and new fashion range 'Kea'.
Available from September 2012, the new collections are designed for women who like to wear the very best lingerie and won't let breast surgery stand in their way. The range combines the finest fabrics with delicate decorative touches and provocative styling, for a subtle but sexy look.
"Following breast surgery, women still want to look good, and it's important for them to be able to find clothes that restore their body confidence," says Amoena marketing manager, Rhoda White.
"We're really excited about the new collection. It will appeal to all those women who love to wear luxe lingerie."
Amoena questioned 1000 breast operated women who revealed that wearing glamorous lingerie makes them feel more attractive. Over 80% confirmed that wearing glamorous lingerie is still important to them following a mastectomy.
Justine collection details: The Justine collection is available in both red and black and includes non-wired bras, shorts, briefs and body. Sizes available range from 32 A to 44E, and up to size 20 in the briefs. Prices start from £30.
Kea collection details: The Kea range includes non-wired bras, camisole tops and shorts. Bra sizes go from 32A up to 40D, camisoles and shorts up to size 20. Prices start from £30.
For more details or to order visit amoena.com/uk.