6 jewelry pieces that enhance your appearance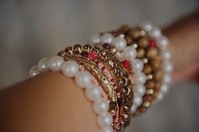 Women have always gone back and forth wondering what makes their outfit complete and what essential clothing items they should have in their wardrobe. The same goes for shoes and makeup.
What is often forgotten, however, is that there are essentially six pieces of jewelry that all women's jewelry boxes should contain for all possible occasions and outfits. When jewelry is worn correctly, it attracts the eye and can also emphasize, for example, a woman's face shape or eye color.
On days when you have no clue what to wear, the problem can be easily solved with jewelry as it can make a simple outfit much more playful and personal.
In the article below, we'll take a look at the six jewelry pieces, which, thanks to their simple yet eye-catching design, can be used to enhance your appearance and boost your self-confidence.
Pearl Bracelet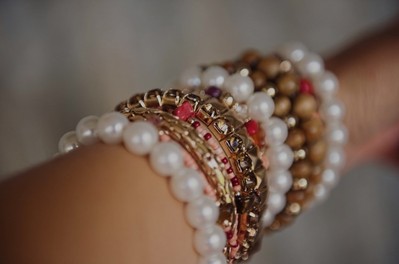 Bracelets are the type of jewelry that every woman needs. Simplicity is something that almost all bracelets have in common. Many bracelets have a size that can easily be adjusted so that they fit your wrist.
Either you choose a small set with some bracelets that match each other nicely or you choose one, such as a pearl bracelet, that will make an immediate and stunning impression and serve as the focal point of your entire look.
Fashion trends come and go but when you choose a bracelet with pearl beads, you are sure to have a timeless piece of jewelry, suited for all types of special occasions, be it a date night, a wedding party or a soiree. A woman can also wear this piece every day in the office as it will make her look professional and sophisticated.
Statement Necklace
Necklaces are not only a wonderful and elegant gift to receive but also an easy way to lift your outfit and look. As with all accessories, it is important to find your personal style that suits you.
Right now, the so-called layered style is trending when it comes to necklaces. But maybe you feel more comfortable in a classic and elegant piece or one that will make a bold statement in just a few seconds.
We recommend that you find a large-sized accessory such as a statement necklace that will draw attention immediately.
If you choose to wear a shirt, dress, or top that has a relatively plain and simple neckline, you can beautify it all with the help of a statement necklace. Once you make the investment in a necklace like this, choose one that you will be able to wear for several years no matter what season of the year it is.
Huggie Earrings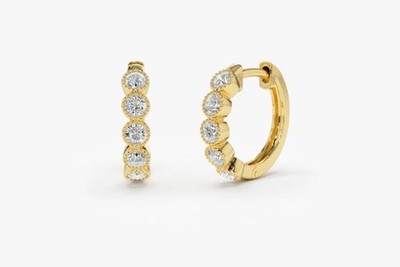 By far the most important piece of jewelry that a lady can wear are earrings. Diamonds or pearls are the most classic and elegant variants and they work just as well for everyday life and for parties. If you wear earrings like this, you'll be sure to achieve a sophisticated and classic look.
Hoops are something else to invest in as they give off a relaxed appearance. If you want ones that are a little more festive, you should choose huggie earrings.
Huggie earrings are a fashion-forward type of earrings made of small hoops that fit closely around the ear lobes. These earrings have become very popular and practical as they are easy to open and close through a click function and with the help of a hinge and sprint that clicks together.
The most common materials used to make huggie earrings are real silver, real gold, rose gold and surgical steel. These materials are used partly because they are stylish and beautiful to look at, but also because they are durable and can be shaped into attractive jewelry.
Try combining several earrings with different motifs and patterns which will create a chic style. It makes your ears exciting to look at and you can create a completely unique style for yourself. The hottest trend and what is highly popular right now is to have earrings and hoops in your ears with small dainty stud earrings and ear cuffs.
Chunky Ring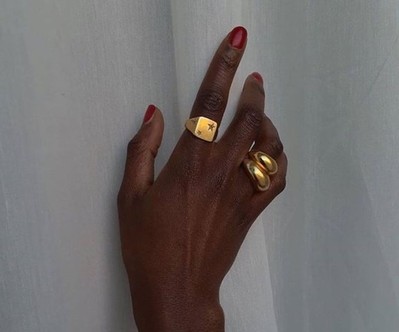 Your soft hands and fingers deserve to be dressed as the rest of your body so have them join in on the fun by putting some rings on them.
If simplicity is what works for you, then smaller rings do super well with more casual and modest styles. However, if you want to achieve a more straightforward and extravagant effect and don't feel threatened by this, you should choose a chunky ring and wear it as a confidence booster.
Such a ring can probably best express your personal style because it stands out. A super large ring in the color you like and a style that works for you can do wonders for both your clothes and your hands.
Personalized Jewelry Pieces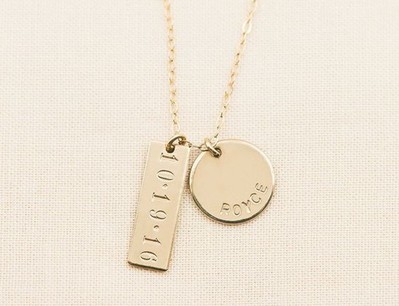 Personalized jewelry is becoming trendier and we're loving it. Wearing an accessory on the body that is both personalized and stylish shows a conscious and memorable fashion choice that, at the same time, enhances your appearance.
There is a large assortment of personalized jewelry, everything from sparkling jewelry with zodiac signs to engraved pieces and pendants with letters.
If you love designing jewelry and own customized pieces, the possibilities are endless. All pendants and charms can be put on either a necklace or a bracelet so you can be creative when putting together your very own personalized piece of jewelry.
Not only will this kind of jewelry make you unique, but it is an easy way to show who you are by choosing options that mean something to you and also dare you to be different. It gives you the best of both worlds.
A Timeless Watch
Last but not least, we must have a jewelry piece that will also adorn our wrist so that everything feels complete.
No longer are watches just convenient time-keeping devices but they are a reflection of character and style.
If you intend to buy a watch, you should put some effort into finding and choosing a more timeless style. It's an accessory that you'll wear every day, at work, when you're out with the kids and even at parties.
Find one that will work with jeans, dresses and more formal clothes. Invest money on a slightly more high-quality watch because this is a must-have accessory that will never go out of fashion.
Final Thoughts
For years and years, jewelry has been used as a way to show social and personal status, religious affiliation and to express artistic creativity.
However, nowadays, jewelry is the ultimate expression of personal style and a way of enhancing your overall appearance. Jewelry should be fun and playful, so go ahead experiment and do not be afraid to stand out.
In the article above, we listed six jewelry staples that will help make you instantly feel more attractive and like your most confident self.