Free iPhone app on how to explore Tasmania with a clear conscience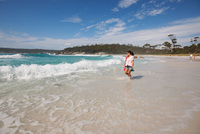 The ultimate online wildlife, walking and wilderness guide to Tasmania is now available in an iPhone App, free to download from the App Store from 16th April.
The app has been produced by Tourism Tasmania in association with responsibletravel.com. It includes many small and specialist tourism and wildlife operators and accommodation providers that have never been published in brochures, or even available for bookings through traditional channels in the UK before.
The app also contains a vast array of indispensible insider information, clearly classified for ease of research, including videos, audio bites, editorial feature and in-depth descriptions.
Videos and audio on the app bring Tasmania to life with the touch of an iPad, iTouch or iPhone. Footage includes that of Tasmanian devils, echidnas, quolls and platypuses in the wild, along with tours and places that give the visitor the chance of having up close and personal experiences with species that are found no where else on earth.
Users can listen to the calls of the little penguins coming back from a fishing expedition in the Great Southern Ocean, the growl of a platypus in the cleanest rivers on earth, and the screech of a Tasmanian devil as it devours every last scrap of a rotting carcass.
Other footage includes original coverage of the famous and ultimately successful 1982/83 battle to save the mighty Franklin River, a monumental campaign that caught the attention of the world, toppled the Federal Government and started the world's first Green party. It also includes inspiring clips of adventure tours and the stunning landscapes found in what is regarded as one of the world's last frontiers.
All Tasmania's multi-day and many of its short walks are listed, many with map references, essential information and a short description, and of course images.
A guide to most of Tasmania's 19 national parks is also on the app, and just in case the user needs reminding that Tasmania has some of the best dining, drinking and convict heritage in Australia, and currently the hottest art scene, there are also guides to the cities , the food and wine, and its culture.
The App is launched in the year that celebrates the 30th anniversary of the inscription by UNESCO of the Tasmanian World Heritage Wilderness Area, an achievement which, it is understatement to say, changed the world we live in for the better.

For more information visit responsibletravel.com/holidays/tasmania