Organic Holidays boasts two more fabulous cottages for couples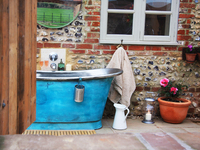 Discover an idyllic cottage for two, which can become your bolthole for a romantic break with your beau or belle this year, by heading to organicholidays.com where there are plenty of stunning holiday properties to drool over.
Recent additions to this fabulous holidaying portal, which enables you to pack your organic principles when you go away, are two cottages for couples, both perfect for the romance and we-time that hectic schedules can otherwise smother.
At 'The Bothy' at Launceston Farm, Tarrant, Launceston in the heart of the Dorset countryside, a couple can enjoy the peace and quiet of an Area of Outstanding Natural Beauty and get the true taste of farm life, by taking advantage of 'heat and eat' meals, barbecue packs and DIY farmhouse breakfasts using food from the organic farm on which the cottage is based.
The delightful, single storey self-catering cottage is located in the converted groom's quarters, attached to the main farmhouse. A king-size bed graces the one bedroom and there is a shower room with WC, fully equipped living, dining and kitchen area and a wonderfully private outdoor, walled courtyard in which to enjoy each other's company.
Here, you can make the most of the gorgeous bateau bath and bathe while stargazing, or rustle something up on the wood fired barbecue. Alternatively, you can always snuggle up on the two-seater sofa and enjoy a good book or DVD once you have maybe devoured a meal prepared by cordon bleu chef and owner, Sarah.
The Bothy is five miles outside the Georgian market town of Blandford Forum, just two hours from south west London. A 7-night stay costs £560 and shorter stays may be possible, but can only be booked two weeks in advance. A three-night weekend stay costs £240 and a three-night mid-week break is £210.

At The Old Dairy, at Troed Y Rhiw Farm, Llwyndafydd, Llandysul in West Wales, a single-level cottage for two can be found in a beautifully restored and converted 17th century stone dairy.
The one-bedroom property boasts an open plan living room, a kitchen with exposed beams and ash wood floor and a wet room bathroom, accessible by all. The bedroom has an en-suite bathroom, while the spacious living area is warmed by wood burning stove and has digital TV, stereo and DVD player, as well as sofa bed.
One of the highlights of a stay here is a vegetable box provided fresh from the farm, full of wonderfully tasting veg that communicates the farm's ethos of growing with nature. Another is the rich variety of wildlife living on and around the farm, with jays, wagtails, owls, red kites, buzzards, heron and blue tits all very visible and pipistrelle and brown long-eared bats roosting in a specially designed bat loft in the roof of the stone dairies.
Guests have a barbecue area at their disposal and a garden area and also have the option of arranging a stay to coincide with one of the farm's leisure learning courses, which include bee-keeping, wild food foraging and the principles of organic growing.
Just three miles north lies the village of New Quay – the village on which Dylan Thomas based 'Under Milkwood' while award winning beaches are within easy reach and the opportunity to watch dolphins out at sea is by no means a rare one.
A stay at The Old Dairy costs £295-£495 per week.

This is just a snapshot of the wonderful self-catering properties, B&Bs, hotels, campsites and quirkier accommodation available at Organic Holidays all of which is on an organic farm or at a business serving mainly organic produce. Visit the site, whether you wish to holiday at home or abroad, and discover your perfect holiday or short break option.