South Devon's top-ten romantic escapes for two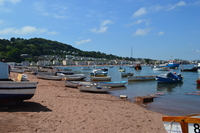 New research has revealed that South Devon is among the nation's most romantic destination for lovers, with more than one in three citing its romantic appeal as their top reason for visiting and staying in the area.
The survey, conducted by Visit South Devon, asked more than 700 regular visitors what they most strongly associated South Devon with. The resounding response was romance, followed by recuperation retreats, foodie breaks and beach escapes.
Sarah Stride, Acting General Manager for Visit South Devon commented on the findings, saying: "South Devon is undoubtedly a beguilingly beautiful destination with many breathtaking beaches, bays, hidden coves, charming villages, wild walks, romantic restaurants, remote boltholes and enchanting hotels. You only have to take a walk along the coast to become swept up in the romance of the location.
"However, not everyone has had the chance to be seduced by all that South Devon has to offer, and so to celebrate the findings of our survey we've put together our top ten places for romantics to revel in, just in time for the Valentine's weekend."
1. Take a walk along Bigbury Beach, indulge in fresh seafood, then cross to Burgh Island to explore this iconic South Devon landmark. Book a local cottage overlooking the island for an unforgettable escape from it all.
2. Take a walk through the Smugglers Tunnel at Shaldon and discover the dramatic beach on the other side. For a real treat take your loved one to the multi-award winning ODE dining restaurant and experience chef Tim Bouget's tantalising tasting menu for two.
3. Take a trip to Noss Mayo and delight in the raw beauty of the Peninsular and its isolated sandy beach.
4. Treat yourself and your beau to a spot of luxury in delightful Dartmouth at either the Dart Marina Hotel & Spa or the Royal Castle Hotel. Dine in or go out and indulge in a meal at celebrity chef Mitch Tonks' celebrated Seahorse restaurant.
5. Stargaze at Slapton Sands and Blackpool Sands in the stunning South Hams, both of which enjoy dramatic dark skies. Catch a shooting star, spot Start Point Lighthouse in the distance and listen to the whispering waves as they wash up on the shore. Stay in one of more than a dozen At The Beach apartments just yards from Slapton Sands.
6. Daisy, Daisy, go half crazy on a bicycle ride for two. Explore the captivating scenery along the Exe Estuary trail, taking in Starcross and Dawlish Warren along the way. Stop off at Powderham Castle Food Hall for a warming drink and a slice of something nice. Stay in one of Cofton Country Holidays' newly refurbished four-star cottages overlooking the Exe Estuary, complete with hot tub, on-site indoor pool, sauna and steam room.
7. Get all steamy on the South Devon railway with a return trip for two from Totnes to Buckfastleigh. Take a trip along the enchanting River Dart, discover the delights of Totnes and spend a night in a four-poster bed at the Royal Seven Stars Hotel.
8. Choose a section of the South West Coast Path to explore and don't forget to pack a bottle of sparkling Sharpham wine, one of South Devon's finest. Cap off your trip with a night at the award-winning country house Buckland Tout-Saints Hotel situated near enchanting Kingsbridge.
9. Head to Dartmoor, climb Hay Tor and spot wild ponies. Pack a picnic of local produce and take in the incredible and breathtaking views before popping the all-important question. Round your weekend off with a romantic stay at Stickwick Manor and Cottages on the edge of the delightful Dartmoor village of Hennock.
10. Promenade your partner on Teignmouth Grand Pier and then take a trip to Teignmouth River Beach. Cross the river Teign on the oldest ferry in the country and enjoy stunning views of Dartmoor and trawlers as they return with their daily catch. Lavish your loved one with a stay in Teignmouth's swanky Riviera Apartments . Treat yourself to a penthouse with views of The Ness, the Grand Pier and Teignmouth beach.
For more information on these ideas and accommodation available, go to: visitsouthdevon.co.uk