See for yourself the big cats featured in Disney's African Cats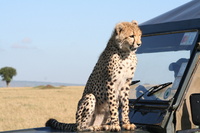 To coincide with the release of 'African Cats', Disney's long awaited film following big cat family life in Kenya's Masai Mara, specialist African tour operator Aardvark Safaris is offering a six night safari to visit the area the film was shot and track some of its feline stars.
The film features Mara, the endearing lion cub, Sita, a fearless cheetah and single mother of five mischievous newborns; and Southern Pride leader Fang, with his distinctive broken tooth, who's engaged in a struggle over territory and females with Kali, pride leader of the adjacent River Pride.
Aardvark Safaris' itinerary combines three nights at Rekero Camp, home of the African Cats film team, with three nights at Naboisho Camp, (sister camp to Rekero) located in a private conservancy adjacent to the Masai Mara National Reserve. There will be ample opportunity to learn first-hand about the cats featured in the film from the guides and trackers who assisted in the filming process.
Here's the latest news on the film's stars, hot from Rekero Camp:
Sita the cheetah and her cubs have been doing well, although within the past month she has moved across the nearby border into Tanzania, which makes it difficult to keep track of her. It may be that there is more prey for them there, or perhaps they find it more peaceful. There are certainly fewer lions which would make life a lot more comfortable for them all.
The River Pride are still resident around Rekero, and they have new-born cubs who were fathered by Kali (known as Notch by the guides and trackers at Rekero). The pride is often seen by guests at the camp, and seem to be very content to stay nearby having secured themselves an excellent territory with plentiful food, shade and permanent water.
Cost for the six night safari for a family of four travelling with children under 15 years is from £2,554 per person. This includes full board accommodation, unlimited game drives at Rekero, bush walks, night drives and visits to the local Masai people at Naboisho, international flights, internal flights and transfers, and the chance to visit the Giraffe Centre on returning to Nairobi.
African Cats goes on general release in the UK on 27th April.
For further information, visit aardvarksafaris.co.uk.