Range Rover Evoque Special Edition with Victoria Beckham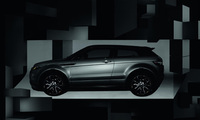 Land Rover and Victoria Beckham have unveiled a new bespoke luxurious, hand-finished Range Rover Evoque Special Edition.

The exclusively designed Range Rover Evoque Special Edition is the result of a collaboration between Land Rover Design, led by Gerry McGovern with Victoria Beckham, winner of the coveted Designer Brand of the Year award at the 2011 British Fashion Awards.

Victoria was appointed Creative Design Executive in July 2010 and has worked with the Land Rover design team under the direction of Design Director Gerry McGovern over the past 18 months to create her Special Edition.

Gerry McGovern, Director of Design, Land Rover explains: "The design of Evoque has truly captured the hearts of customers worldwide. Working with Victoria the intention was not to change the fundamental architecture and award winning design of the Range Rover Evoque. We wanted to create a Special Edition that extends its character in a new direction through understated, restrained colour and detail changes.

"Both Land Rover and Victoria Beckham are British luxury brands with credibility and global appeal, this dual 'Britishness' makes the collaboration even more exciting especially when considering the huge audience for bespoke products around the world, particularly in China, Russia and Brazil where Land Rover is growing".

Victoria Beckham said: "I am very excited to be working with Land Rover as I have an enormous amount of respect for the brand. I've always driven a Range Rover, for me they are the epitome of quality and luxury."

When I first started working with the team I did a lot of research, and created mood boards to show the team my love of timeless and classic design. I looked at yachts, luxury jets and classic cars.

It's the small detail that makes all the difference. I want everyone who gets into this car to feel special and empowered by its quality and craftsmanship. I like that it feels luxurious but also has quite a classic edge to it as well as a contemporary feel."

Land Rover Design Director Gerry McGovern said: "Working with Victoria we quickly recognised our similar design tastes and ambition for this car. For example at the first meeting, Victoria herself inspired the use of rose gold. She was wearing dark clothes and no jewellery apart from a rose gold, man's watch. I was struck by the juxtaposition of the masculine watch on a very elegant, feminine wrist. We both agreed it was the ideal way to introduce a softer touch to the bold, assertive exterior colour scheme.

Throughout the process we were keen to ensure that the vehicle would appeal equally to both men and women, in fact Victoria always maintained that she wanted her husband David to be proud to drive this car. We fully enjoyed working with Victoria and I am confident this special edition will appeal to discerning luxury consumers globally."

Design overview

Quintessential British luxury is a hallmark of both the Land Rover and Victoria Beckham brands. This Special Edition allows that impression to be further heightened through the use of the finest quality materials and craftsmanship, which highlight the already ultra-premium interior ambience of the Evoque.

Powered by the lightweight, all-aluminium 240PS 2.0-litre petrol engine the Range Rover Evoque Special Edition will be hand-finished by Land Rover's Engineering to Order division (ETO) in Warwickshire.

Essential to the design is the high quality hand-finished matt grey paint, unique 20" gloss black forged alloy wheels and luxurious rose-gold details, limited solely to this Special Edition.

Complementing the ultra-modern, stealth-like exterior is an elegant and luxurious interior. The sport design four-seats are finished in a semi-aniline Vintage Tan leather, with a bold 'baseball' stitch detail chosen by Victoria as a tongue-in-cheek reference to her sporting husband David. The same leather is also used to cover the door inserts, arm-rests and central storage box lid.

Another personal touch is the exclusive and ultra-luxurious floor mats. The designer explained that when she was a young girl, her father owned a Rolls-Royce and she would enjoy taking her shoes off to sink her bare feet into the thick carpeting. Land Rover's designers replicated this for her by using mohair, usually reserved for luxury clothing, to make the mats.

Bespoke luggage completes the holistic design package that is the Range Rover Evoque Special Edition with Victoria Beckham. This four-piece set is based on the designer's own luggage range, using the same high-quality internal structure and clothed in hand stitched black leather. The set comprises two his and her's wheeled suitcases and wash bags, all of which are lined in the same microsuede used for the roof lining, and as a finishing touch the zip pulls are finished in the same matt grey as the exterior.

A beautiful hand stitched leather wallet, with rose-gold detail containing a guide to the exclusive features of the car is co-branded Range Rover Evoque and signed by Victoria Beckham

Equipment
An 825W audio system is provided by British experts Meridian and features 17-speakers and state-of-the-art amplifiers to create the company's patented Trifield surround sound which delivers all-enveloping sound to all four seats.
Entertainment options include digital and satellite television, DVD playback, 10-disc virtual CD multiplayer and digital radio tuners.
The Range Rover Evoque Special Edition with Victoria Beckham features Land Rover's hallmark full-time, four-wheel drive and award-winning Terrain Response system.
Powered by a 2.0-litre turbocharged petrol engine producing 240PS and 340Nm of torque delivered to the wheels through a six-speed automatic gearbox with steering wheel mounted paddles for full driver control
Surround Camera System offers a 360-degree view of the car's surroundings.
Park Assist automatically steers the Evoque into a suitable parking space while the driver operates the accelerator and brake.

The Range Rover Evoque went on sale in September 2011 and is the recipient of more than 110 international awards thanks to its unique combination of dramatic design underpinned by the brand's core credentials of capability and luxury.

The Range Rover Evoque Special Edition with Victoria Beckham goes on sale first in China with deliveries due from October 2012. Indicative pricing is £79,995. For further information and to register interest, visit landrover.com/victoriabeckham.

Victoria Beckham is a joint venture between Victoria Beckham and Simon Fuller's XIX Entertainment Ltd.