Runtastic sees huge download growth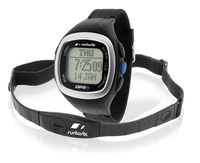 Mobile sports and fitness company runtastic proved it is one of the most popular and fastest growing sports and fitness companies at the moment as it announced details of its download numbers for the first quarter of 2012. 3.5 million new runtastic users have joined runtastic so far in 2012 which brings the user base of runtastic to > 7 million in total.
Given the dramatic growth runtastic has undertaken a complete redesign of its apps with a clearer, faster display and user interface to make sure it continues to provide class leading health and fitness apps.
In an unprecedented move for an app company runtastic has taken its expertise in health and fitness software and applied it to hardware launching a range of complimentary runtastic devices including: Heart Rate Monitor, GPS watch and Sports Armband.
Heart Rate Monitor - a small heart rate monitor device that can be plugged into a smartphone that fully integrates with the runtastic app software and integrates with runtastic users personal online fitness log and performance data.
GPS watch - a watch that tracks all of the runtastic app parameters such as distance, duration, speed, calories, elevation etc. and connects with a users runtastic account so that people who prefer not to carry a smartphone when exercising can use the watch and upload all the data to their runtastic personal fitness log.
Sports Armband - With the runtastic Sports Armband users can wear the smartphone comfortably on their arm where their movement won't be limited and hands are free. The smartphone is protected against sweat and splashing water.
Florian Gschwandtner, CEO of runtastic commented: "We are delighted with the massive growth in 2012. We keep innovating the app to make sure that existing and new users have the best possible tool for all their sports and fitness needs. We work really hard to get the fundamentals right so it is great that people like it."
For more information, visit runtastic.com.