Ultra-rare £1million Lamborghini Reventon on sale at Motorexpo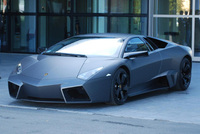 Well-heeled petrolheads will have a unique opportunity to take possession of one of the world's rarest supercars on the planet this summer, when an ultra-exclusive Lamborghini Reventon supercar features in an exclusive H&H Classics sale being held at London's Motorexpo (Canary Wharf 11-17 June).

Expected to achieve more than £1 million, the Reventon being offered for private sale at Motorexpo was one of only 20 produced and is thought to be the only example in the UK, making this a truly unique opportunity for automotive collectors.

The Reventon was revealed to the public for the first time at the Frankfurt Motor Show in September 2007 and, despite commanding an asking price of €1 million (plus local taxes), all 20 examples were pre-sold before the car had even been unveiled. Powered by a 6.5-litre V12 engine producing 650bhp, the carbon-fibre Reventon can crack the 0-62 mph sprint in just 3.4 seconds and go on to a top speed of 211mph, ensuring the car has more than enough pace to live up to its stunning F-22 Raptor jet fighter-inspired body.

As part of its 'Supercars and Superclassics' sale, H&H will be presenting an Auburn Speedster replica as well as a number of vehicles from brands such as Ferrari, Pagani, Maserati, and Koenigsegg.

"The appearance, let alone sale, of a car as rare as the Lamborghini Reventon is sure to attract a large number of supercar enthusiasts and collectors to Motorexpo this summer," commented Graeme Carver, Motorexpo CEO.

"But even those who can't quite justify the £1 million asking price for the Reventon can get up close to their potential next purchase – be it classic or modern. Alongside H&H's impressive catalogue of vehicles a host of car manufacturers will display more than 250 new models. With on-the-road prices starting from less than £8,000 there will be a car for every buyer," he concluded.

Motorexpo is open daily in Canary Wharf from 10am to 6pm (Monday 11 to Saturday 16) and 11am to 5pm on Sunday 17 June. Entry is free and the show's organisers are expecting more than 425,000 visitors to enjoy this year's event and visit Canary Wharf's 200-plus shops, bars, cafes and restaurants.

In addition to the cars being displayed by H&H, a number of leading automotive brands have already confirmed their attendance, including Bentley, BMW, Jaguar, Kia, Land Rover, Mercedes-Benz, Vauxhall and Volvo.

Motorexpo offers visitors unrivalled interactivity, with all vehicles being open and available for people to sit in and enjoy. Motorexpo is also offering full test-drive capabilities with Motorexpo DriveME, giving visitors the chance to get behind the wheel of the very latest models on the roads around the famous Canary Wharf business and shopping district.

For more information about the show, visit motorexpo.com. Further information about the vehicles being offered by H&H is available at the company's website: classic-auctions.com.