Official Ducati UK Track Day - Donington Park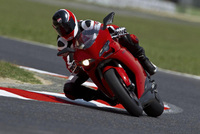 Ducati UK in association with Focused Events, will be organising the ultimate track day for Ducatisti at the World famous Donington Park Circuit.

The Leicestershire Circuit, scene of Ducati's first ever World Superbike win, will play host to the thunderous sound of Ducati's in their natural playground. The track day will take place on Tuesday 31 July and will be on the full Donington GP Circuit.

Ducati owners can book through their nearest dealer ducatiuk.com or book online through focusedevents.com/event_info.asp?ID=2655

The cost of the track day is £169 which includes breakfast and the chance to share the track with star riders such as Neil Hodgson, Niall Mackenzie and Steve Plater who will also be available for coaching. The track day is a Ducati only event and will be attended by Ducati UK staff and dealers who will be on hand to deal with any enquiries.

For further information regarding Ducati products and events visit ducatiuk.com.