Andalucian Retreat launches new eco measures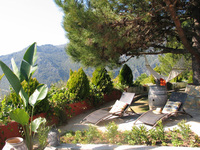 Eco-friendly Andalucian bolthole DDG Retreat has opened for its second full season with a pledge to launch additional initiatives aimed at helping to protect the environment.
For every booking confirmed this year the Retreat's owner Alex and Olga will plant a new tree on their 4-hectare woodland site – and guests are being given the additional option of sponsoring their own tree which will be ready for planting during their stay and which will come complete with a commemorative name plaque.
DDG Retreat's location, near the pretty pueblo blanco of Casares, makes it a perfect base for exploring this beautiful part of Spain and visitors are being encouraged to take to the region's cycle routes with bicycles provided free of charge by Alex and Olga.
"We live in an area with some great cycle routes that provide visitors with the perfect opportunity to leave their cars and take in the stunning scenery here in a way that is also environmentally friendly. We have the maps ready and can advise people where to go according to their cycling ability and their tastes," says Alex.
Also new for this year at DDG Retreat is the introduction to their Spa of an innovative and award-winning range of eco products made using unique plants from Siberia that date back to the Ice Age and were once used to make elixirs for the Russian Royal family. Winner of Best Green Beauty award 2012 at Cosmoprof in Bologna Italy 2012, the range has been certified by ECI BIO standards and complies with European quality standards for organic cosmetic products.
Another first for this season is a bid to reduce the use of plastic containers by making available for guests' use fresh supplies of water from the Retreat's own well. Certified for quality, the water from this private underground source is also used to fill the hotel's infinity pool and for the owners' own consumption.
Set in natural woodland with views over the Med to Gibraltar and North Africa, DDG Retreat provides guests with a perfect escape from the stresses and strains of modern day life. Inspired by the owners' extensive travels, the Retreat is made up of 5 boutique casas that have been constructed with regard for the environment in mind.
Where possible, sustainable materials have been used, local craftsmen have been included in the build process and clever planning and design ensured that despite being an intensively wooded site only three trees were lost during construction of the bungalows, a villa, swimming pool and leisure pavilion, tennis court and restaurant area.
"Trying to fit everything we wanted into this site without losing trees or damaging roots was a real priority to us. Having been lucky enough to have travelled to more than 60 countries we very much appreciate the importance of our environment and of respecting local cultures. We have done everything we can here to ensure that our Retreat reflects our own personal principles. Our aim is to keep introducing new measures that are green though of course in a way that does not compromise the comfort of our guests, " says Alex.
Other eco features at DDG include the use of bio waste tanks, rainwater harvesting for plant irrigation, recycling, conservative use of lighting, supporting local farmers in buying ingredients for their restaurant, offering organic wine options to guests and using their own-grown vegetables in cooking.
Andalucia is a region that's very much working towards renewable energy and part of DDG's electricity is generated by nearby wine turbines.
For more information, visit ddgretreat.com.