Sofitel So Bangkok sets the stage for the city's most inspired meetings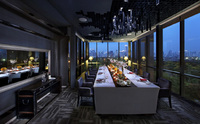 Sofitel So Bangkok, the city's first truly urban design hotel, is set to become the city's most innovative meetings venue, the place where design meets pleasure, where technology meets comfort, and where people meet people.
Featuring Sofitel's signature InspiredMeetings concept, the hotel combines the latest conference technology with a passion for excellence that is committed to making every event an unforgettable success. From an experienced meeting planner and concierge to a dedicated chef, every detail is tailor-made to perfection.
Setting the stage for inspired meetings is a creative choice of spaces. For grand affairs there is The Ballroom, located on the 8th Floor and offering 380 sq. m. of pillar-less space to accommodate up to 350 guests. Designed as a modern interpretation of a Parisian opera house, classic glamour is here combined with modern styling and high-tech features, including an entire wall HD projection and built-in audio sound system. Optimal acoustics, professional lighting, free WiFi and Broadband, and a 7.2 m. high ceiling further facilitate customization, while a pre-function social area and four elevators add to guests' convenience.
On the hotel's 7th Floor, the Social Club is inspired by a production house ambience to provide an atelier for thinking and creativity in a loft-like setting that plays out around a pre-function area and an open space with kitchen, lounge and bar. Leading off from here are four meeting rooms, all with innovative technological services and flexible set up.
Suspended in mid-air on the 9th Floor, The Box is perhaps Bangkok's most inspired meeting space. Covering 50 sq. m. and with three walls of glass offering panoramas of the city below, The Box is designed to see and be seen in, a unique venue to impress VIP guests or host exclusive gatherings.
Throughout, guests and delegates will experience Sofitel So Bangkok's design concept centred on the Five Elements – Water, Earth, Wood, Metal and Fire – which provide innovative themed solutions to not only successful meetings but also to coffee breaks and other creative support features.
For more information, visit sofitel.com.