Celebrating 60 years in The Churchill Bar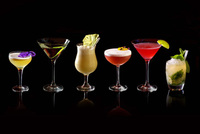 As part of the celebrations for the Diamond Jubilee, the team at The Churchill Bar are offering a selection of iconic cocktails to represent every decade of Her Majesty's reign.
Each cocktail uses niche, premium quality spirits to bring out the unique flavours of each drink and will be presented with a card highlighting key achievements, events or happenings during the individual decade.
1950s - Daiquiri with Brugal Rum 1888, Lime and Sugar Syrup.
The 1950s saw the birth of the Cocktail Hour. The fun of shaking, stirring and garnishing a drink added to the glamour of the decade. Cocktails were daring with fruit flavours disguising the high alcohol content. It was all about the appearance of innocence.
1960s - Vesper with Sacred Gin, Stolichnaya Elit and Lillet Blanc.
As James Bond said in Casino Royale " I never have more than one drink before dinner, but I do like it to be large and very strong and very cold and very well made." In 1962 the first Bond film 'Dr No' opened with Sean Connery as the spy with style. His cocktail of choice - Vodka Martini "shaken, not stirred".
1970s - Pina Colada with Plantation Rum, Pineapple Juice, Coconut Cream and Cream.
The 1970s saw the fashion for exotic drinks. The Pina Colada recipe travelled from Puerto Rico and found a home among drinkers seeking a cocktail that reminded them of exotic, far-away places.
1980s - Sex on the Beach with Peach Schnapps, Chambord Liqueur, Belvedere Vodka, Pineapple Juice, Cranberry Juice and Lemon Juice. "A man will always be judged by the amount of alcohol he can consume, and a woman will be impressed, whether she likes it or not." So claimed Doug Coughlin in the classic 1980s film 'Cocktail'. The young bartender Ted Pizio served this cocktail for the first time at Fort Lauderdale in Florida.
1990s - Cosmopolitan with Chase Vodka, Cointreau, Cranberry Juice and Lime Juice.
One of the most popular cocktails ever thanks to the TV series Sex and the City. As millions of women around the world shared their achievements and dreams, loves and losses, the Cosmo became a classic.
2000s - Mojito with Zacapa 23 Rum, Mint Leaves, Lime Juice and Soda Water Sugar.
Who would have thought that a cocktail inspired by the extraordinary explorer, Sir Francis Drake in the 16th century would become a symbol of civilised drinking in the 21st century?
Available until the end of September, these iconic cocktails are priced at £12 each and are served in The Churchill Bar from 1:00 pm to 2 :00am every day. (1:00am on Sundays).
The Churchill Bar offers guests a traditionally British setting to relax and enjoy a wide-range of cocktails, wines and whiskies. The decor and ambience is reflective of a private British retreat, with warm wood paneling, rich fabrics and distinctive features. Photographs and illustrations of Sir Winston Churchill adorn the walls. The drinks list includes 80 different varieties of malt whiskies, 15 different cigars and a large selection of cocktails. Cigars are still available for sale, but can no longer be smoked in the bar. Guests can enjoy live music between 7pm and 1am, Tuesday - Saturday. london.churchill.hyatt.com