Stay Lucky - Series 3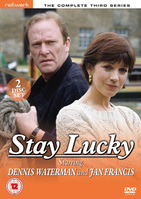 Network DVD is set to release light-hearted, popular drama series Stay Lucky - The Complete Third Series (12) on 23rd April 2012, RRP £19.99. This Yorkshire-based comedy thriller tells the story of a cockney wide boy, a headstrong, fiercely independent northern woman and her precious houseboat.
Dennis Waterman stars as Thomas Gynn, a London gangland refugee who heads north to escape old demons and attempt to carve out a new life. Things seem to be going well for Thomas: he's started up his own business, and almost a year after he was abandoned by his significant other, Sally Hardcastle, she's suddenly back in his life. The unlikely couple have always shared more than money-making interests, and soon find their mutual attraction is as strong as ever. But shock-horror surprises, fiscal dilemmas and misadventure continue to dog Thomas and Sally.
Co-starring Jan Francis (Just Good Friends), Emma Wray (Watching) and Anthony Valentine (Callan), series three also features appearances by Celia Imrie, Michael Kitchen, Roger Lloyd Pack, Amanda Burton and Julie T. Wallace.
Stay Lucky - The Complete Third Series is a Network DVD release
Release Date: 23rd April 2012
RRP: £19.99
Discs: 2
Running Time: 350 mins (approx.)
Screen Ratio: 1.33:1
Cat no: 7953677