New Sony Blu-Ray Home Cinema and Sound Bar speaker systems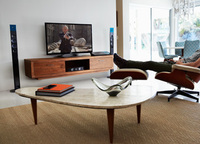 Home entertainment has never looked – or sounded – better with the new family of Blu-Ray Home Cinema and Sound Bar speaker systems from Sony.
Whether you're looking for a feature-packed Home Cinema System or compact and stylish Sound Bar, this season's models instantly add presence to any living space. Confidently sculpted lines echo the 'Sense of Quartz' styling that's a signature of this season's BRAVIA TV range. Subtly unique new looks are complemented by premium sound quality and easy connectivity with online services and other devices around your home.
4K takes your viewing beyond High Definition
Once you've seen it there's no going back. This year's N-Series Home Cinema Systems upscale your movie collection to detail-packed 4K resolution to enjoy on any 4K TV.
With four times the resolution of Full HD, you'll be blown away by immersive, ultra-lifelike picture quality that makes a night in front of the TV feel like a trip to the movies. It's a great way to future-proof your Blu-ray Disc collection, all ready for upgrading to your first 4K TV.
Crisper, more satisfying sound with soul-shaking clarity
Make the most of your Blu-ray Home Cinema experience with powerful, sparkling sound that fills the room. Slim, stylish speaker units feature Sony's revolutionary Magnetic Fluid Speaker technology. Using an advanced ferrofluid material developed by NASA for the space programme, this ground-breaking speaker achieves more accurate, revealing sound – even at high volume levels. You'll hear the difference with detail-packed dialogue, clearer music and rich, focused bass. Newly-designed rear surround speakers cut cable clutter, receiving audio wirelessly from the main system.
Football Mode recreates that stadium thrill with all-round sound
Made for sports fans, new Football Mode brings the excitement of the big match right home. Using acoustic data captured at a Brazilian football stadium, your home cinema system immerses you in the action – just like you're there in the stands. Touch a button and cut the commentator's voice when you want to focus on the action with no distractions. A winning result for any sports lover, Football Mode also enhances enjoyment of other sports like rugby, tennis or motorsport.
Touch and listen with your smartphone or tablet
Don't leave all that music stuck inside your smartphone or tablet: let everyone enjoy your favourite tracks. Just touch your Near Field Communication (NFC)- and Bluetooth-enabled Android smartphone or tablet briefly against the Home Cinema System or Sound Bar. A Bluetooth connection is made instantly using NFC, with no need for fiddly device pairing or complicated settings. Then stream crystal-clear music wirelessly from your mobile device for the perfect party soundtrack.
Bluetooth listening is enhanced by Sony's Digital Music Enhancer with unique audio technologies that restore high frequencies lost in heavily-compressed music files. Your music collection's never sounded better.
Connect to even more entertainment experiences with Wi-Fi
Built-in Wi-Fi connects you with other devices around the home, plus an exciting world of online content and services. Stream HD videos and music from a networked PC to enjoy with superb sound quality through your TV speakers or on your Home Cinema System.
Wi-Fi also lets you explore a huge choice of online content from Sony and other great names. One simple subscription to Sony Entertainment Network lets you enjoy thousands of on-demand movies and TV shows from Video Unlimited, or browse millions of songs and ad-free radio channels from Music Unlimited. Need even more entertainment? Access popular streaming services like LOVEFiLM and Netflix. Browse favourite web sites on the big screen while relaxing on the sofa. You can even join the conversation on social networking sites like Facebook and Twitter as you watch TV.
Stay in control with TV SideView
Control your Home Cinema System from your Xperia Tablet or Xperia smartphone with TV SideView. This free app (Android or iOS) makes it easy to browse programme listings, explore online services and discover more content related to the Blu-ray Disc or TV show you're watching. It's a supremely satisfying home entertainment experience… right at your fingertips.
The new generation of Home Cinema Systems from Sony are available in Europe from April. The HT-CT660 Surround Sound Bar is available from May 2013.