Insight off to a flying start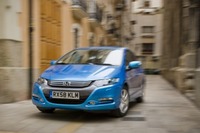 With only a few days remaining in its first month of sales, the Honda Insight is outselling its competitors in the hybrid market.
Since the affordable hybrid car went on sale on 4 April, 229 Insights have been sold in the UK, ahead of its nearest rival the Toyota Prius (198 units). Together with Civic Hybrid (79 units), Honda (UK) has sold 308 hybrid family cars this month, despite April being known as one of the quietest months in the sales calendar.
"The Insight is proving a hit with cost-savvy consumers looking for a cleaner car that's more affordable," said John Kingston, Honda (UK)'s Environment and Government Affairs Manager. "More and more people want a car that makes sound financial sense, especially in the current economic climate, and the Insight offers numerous running cost savings such as reduced road tax of £15 per year and great fuel economy."
Insight customers will also benefit from high residual values of 44 per cent and exemption from the London Congestion Charge. Company car drivers and businesses can take advantage of the same benefits plus low benefit-in-kind tax, reduced national insurance payments and increased write down allowance.
Honda expects to sell around 7,000 Insights in the UK this year. The annual global sales target is approximately 200,000 units. The Insight 1.3-litre IMA SE costs £15,490 on-the-road.