Vauxhall Astra VXR: Torque in-gear without the torque-steer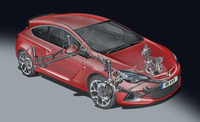 Vauxhall's new Astra VXR will incorporate motorsport know-how in its transmission and deliver a class-leading 400Nm of torque, giving it a 0-60mph time of 5.9 seconds and robust mid-range performance when it arrives in the UK this July.

The VXR's turbocharged, 2.0-litre direct-injection engine harks from the Insignia family, but while its aluminium block is similar, the VXR has a unique aluminium cylinder head and new turbocharger to liberate 280PS and over 200Nm per litre of torque – the highest specific output in its class.

And with a mechanical limited slip differential delivering drive to the front wheels, bespoke Brembo brakes, and dampers developed by performance manufacturer, ZF Sachs, the Astra VXR is also set to raise the bar for in-class dynamics.

Engine

Developing a high-torque engine for the Astra VXR was the key to unlocking the car's real-world, mid-range performance, rather than focusing on power alone. And with maximum torque produced on a broad plateau between 2450rpm and 5000rpm, VXR drivers will never want for instant acceleration.

An all-new, state-of-the-art intake system was developed to feed as much air into the turbocharger as possible. The turbocharger itself was also improved to take more charge-air pressure, which builds from as early as 1400rpm for linear and strong acceleration. The maximum charge pressure is now 1.5 bar – 25 per cent more than in the Insignia 2.0T.

Astra VXR drivers can also look forward to a soundtrack that has been carefully engineered to appeal to enthusiasts, both from inside and outside the car. A 'jet-like' noise in the mid- to high-end rev-range is likely to be a memorable feature, especially when drivers change up from third to fourth under full throttle.

But outright performance hasn't come at the expense of efficiency and durability. Like all recent VXR models, the Astra was subjected to prolonged testing at the Nüburgring's notorious Nordschleife for 10,000 kilometres under race conditions – the equivalent to around 110,000 road miles.

And while the Astra VXR can accelerate from 0-60mph in just 5.9 seconds and hit a maximum 155mph, standard Start/Stop technology has reduced fuel consumption by 14 per cent (compared with the previous model) to a combined 34.9mpg, and reduced emissions to 189g/km.

Chassis

Vauxhall's clever HiPerStrut (High Performance Strut), which has seen action in the Insignia VXR, and more recently in the Astra GTC, has now been adapted for the Astra VXR. The system reduces front wheel camber changes during cornering, enhancing steering feel and filtering out unnecessary torque-steer under hard acceleration.

With dynamic development signed off at the Nordschleife by VXR's lead engineer – ex-DTM star, Volker Strycek - the Astra VXR's chassis uses a mechanical multi-plate limited slip differential for optimum traction. The unit, derived from that used in the Corsa VXR Nürburgring Edition, is made by motorsport component manufacturer, Drexler. It creates its locking effect with a ramp angle of 45 degrees under acceleration and 90 degrees under deceleration. The overall effect is enhanced traction on-throttle, when it's needed, and reduced lock-up off-throttle, when it's not.

In addition to the work done by ZF Sachs on dampers, Vauxhall engineers have stiffened the standard springs by around 30 per cent and lowered the car by a further 10 millimetres all round, compared with a 1.6T Astra GTC. In order to give drivers an even more connected feel with the car, suspension bushes and the compound crank/Watt's link rear suspension were also stiffened.

Chassis upgrades were completed with bespoke Brembo brakes and 19-inch alloy wheels fitted with 245/40 tyres, both of which are standard.

Vauxhall's FlexRide adaptive damping system is also standard on all Astra VXRs. Drivers have the choice of three separate chassis settings which can be selected at the push of a button. 'Standard' delivers all-round performance for a wide range of road driving, with 'Sport' stiffening the dampers for reduced roll and tighter body control.

'VXR' is FlexRide's most extreme mode. Not only does it enhance throttle responsiveness and change the instrument backlighting from white to red, but it alters the dampers settings once again. A ramp-control sub-mode further stiffens the dampers, but ensures that the wheels are in contact with the road instantly after hitting a bump. This means the car has a soft landing even when the springs on the struts rebound on an uneven surface. Meanwhile, the roll control sub-mode reduces tilt further during cornering.

The Astra VXR's ESP (stability control) system also offers three different modes. In its default mode, optimum safety is prioritised for everyday road conditions. 'Competitive' mode raises the threshold at which the automatic systems intervene, though when it senses a dangerous situation it will stabilise the car via the braking system. Finally, in 'ESP-off' mode, activated by pressing the button down for five seconds, the ESP system can be completely deactivated.