Suzuki makes a Splash when it's time for an MOT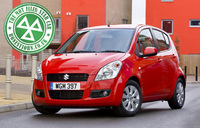 An analysis of 24.5 million MOT records by Consumer Champion honestjohn.co.uk has revealed that out of cars selling more than 1,000 units per annum, the Splash model is the car least likely to fail its first MOT at three years old, scoring a 90 per cent first pass rate. Suzuki also has two other models in the top ten with Jimny and Grand Vitara scoring 89 and 88 per cent respectively.

The data period analysed by honestjohn.co.uk was between 1 October 2010 and 30 September 2011 and all models in the Suzuki range that had reached three years old ranked 85 per cent or above, proving once again the strong reliability and low cost of ownership that the Suzuki range offers. Of the small percentage of Suzuki's that failed, the reason was usually just a blown bulb.

Out of the 24.5 million records analysed, 1.7 million were 2008 registered vehicles and Suzuki's overall position was second in the top ten pass rates by manufacturer.

Splash is Suzuki's mini MPV and is offered with either 1.0-litre three cylinder or 1.2-litre four cylinder petrol engines. Both engines are highly fuel efficient with emissions of 109g/km and 60.1mpg combined for the 1.0-litre model and 119g/km and 55.4mpg combined for the 94PS 1.2-litre model.

Although just over 3.7 metres long, Splash can comfortably accommodate five adults or can also be called upon to carry larger items of luggage with its 573 litres of load capacity with rear seats folded.

Splash SZ2 1.0-litre is available from just £7,777 until the end of June under Suzuki's current VAT free offers. For customers looking for low deposit and low monthly payments Personal Contract Purchase is also available for a deposit of just £777 followed by 42 monthly payments of £139 and an optional final payment of £2,846 at the end of the agreement. Alto SZ2 and Swift SZ2 are also included in the VAT free and low rate PCP offers.

For more information on the Suzuki product range, visit suzuki.co.uk/cars.