Have the Lamborghini of Christmases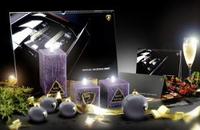 Add the Italian spirit of Lamborghini to your Christmas celebrations this year, with a range of limited edition Christmas candles, baubles and even Christmas cards.
To complete the Christmas tableaux, Lamborghini's ArtiMarca range provides gifts for all: model cars, pencils and pads, mouse mats and tee shirts make ideal stocking fillers for children, whilst Automobili Lamborghini cufflinks, exclusive ladies' wallets and card holders in Lamborghini yellow, and luxurious cashmere scarves for men and women are just a few of the gift ideas for discerning grown-ups at Christmas!
Items are available from the four official Lamborghini dealerships in the UK, in London, Edinburgh, Birmingham and Manchester, or on-line at lamborghini.co.uk.
Lamborghini ArtiMarca, Lamborghini's official merchandise boutique, has designed the baubles, candles and cards to provide a luxurious accompaniment to Christmas festivities in true Italian style. Two sizes of slow burning candles in a soft grey, Grigio Telesto, echoes one of the official colours of Lamborghini's V12 Murciélago LP640 launched earlier this year. 'Buon Natale' and the Lamborghini shield are imprinted into the wax and finished in gold spray.
The baubles, in lightweight ceramic, are crafted in the same colour. Offered as a boxed set of three for the tree or as a giant, 'keepsake' bauble that could be used as a Christmas ornament or table decoration, all are decorated with the official Lamborghini shield in black and gold.
The Christmas cards are available in presentation boxes of 20, complete with special white ink pens for writing onto the coated black cards, and transparent yellow envelopes. Complete with multi-language 'Seasons Greetings' in English, Italian, German, French, Spanish, Japanese and Chinese, the Christmas cards reflect the international spirit of Lamborghini and the world-wide goodwill of Christmas.
Prices
Model cars, from £2.48 upwards
Pencils, £1.99p
Pads, 99p and £1.95
Mouse mats, from £6.95
Children's tee shirts, £21.85
Cufflinks, £62.05 and £66.18
Ladies wallets and card holders, from £44.68 to £81.08
Large bauble, £22.33
Small bauble set, £29.38
Christmas card set, £25.85
Small candles, £24.68
Large candle, £22.33