Lamborghini Gallardo Spyder officially Top Gear's 'Dream Car of the Year 2006'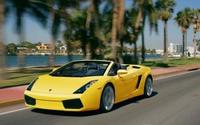 The Lamborghini Gallardo Spyder has been awarded the title of 'Top Gear Dream Car of the Year' for 2006.
The V10, 520 bhp convertible was voted into the dream car category's first place by a team of judges from Top Gear TV and magazine, including Jeremy Clarkson, James May, Richard Hammond and magazine editor Michael Harvey. The award was officially presented to Lamborghini President and CEO Stephan Winkelmann, at a glittering Top Gear ceremony in London.
A Gallardo Spyder graces the covers of the latest edition of Top Gear magazine alongside other category winners, after the 195 mph super car joined the winners' line-up on a photo shoot in Mumbai. The magazine includes a review of the Spyder by Emma Parker-Bowles and Bollywood film star Akshay Kumar, with Jeremy Clarkson commenting, "… we telly boys think the best, most fun car to emerge all year was Lambo's new soft-top."
Top Gear magazine is now distributed in multi-language versions in 30 countries, including India, with Top Gear's television programme broadcast in numerous markets world-wide.
The £131,000 Gallardo Spyder was officially launched at Frankfurt Motor Show in autumn 2005. Customer deliveries commenced in the UK this year, from the four official dealerships in Edinburgh, Manchester, Birmingham and London.