Lamborghini anounces another record year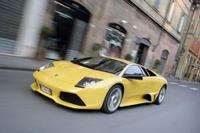 Lamborghini has announced its official sales figures and another annual sales record for 2006, at the Detroit Motor Show.
In the last twelve months the House of Sant' Agata Bolognese has built and sold 2087 cars, which represents a growth of 30.4% compared to the previous year (1600 cars). This is the highest total ever achieved in Lamborghini's history.
A total of 876 units were sold in the United States, which remains the main market for Automobili Lamborghini. Sales grew by 37% compared to the year before (640 cars).
In Europe, sales rose to 746 units, a growth of 50%. Particularly strong sales were recorded in Germany with 234 units and an increase of 41%, and in the UK with a substantial increase of 81% and 151 cars delivered.
In the home market of Italy, another strong performance saw 134 units sold with a growth of 38% on the previous year.
"2006 was an exceptional year. This success is due to the Lamborghini dealer network and our products," said Stephan Winkelmann, President and CEO of Automobili Lamborghini.
The worldwide dealer network has been strengthened, developing from 65 dealers in 2005 to 100 dealers by the end of 2006. The four official UK dealerships are located in London, Birmingham, Manchester and Edinburgh.
The Lamborghini product line was expanded with more new models introduced in 2006 than in any other year of the company's history.
The Gallardo Spyder was launched to the markets in early 2006, while the extreme Murciélago LP640 Coupé was introduced in summer 2006. The new Murciélago LP640 Roadster was presented in November 2006 and will be launched to market in early spring 2007.