Celebrate a super lightweight Christmas with Lamborghini!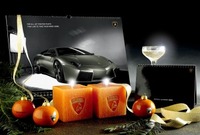 To celebrate Christmas Lamborghini-style, the Italian super sports car manufacturer has produced a pack of limited edition Christmas tree baubles.
The ceramic baubles in box-sets of three are finished in a special orange glaze, Arancio Borealis, one of four colours in which Lamborghini's super lightweight car, the Gallardo Superleggera, was launched earlier this year.
A set of slow-burning candles in the special orange colour are also available. With the Lamborghini shield imprinted on one side, the candles are as suitable for year-round use as they are for Christmas.
Lamborghini's Christmas collection also includes 2008 calendars and even a set of 20 Christmas cards featuring the €1 million Lamborghini Reventón, alongside the candles and baubles.
For Lamborghini enthusiasts who are more interested in what's under the tree than hanging off it, shoppers should head to their nearest Lamborghini dealer in London, Birmingham, Manchester or Edinburgh, for a range of ideal gifts from Collezione Lamborghini. Alternatively, the official collection is available on-line at lamborghini-store.co.uk.
Cashmere scarves in two shades of grey, and gloves and jackets will guarantee a warm winter, while a whole host of stocking fillers for grown-ups could help solve Christmas shopping crises. Choose from key rings and men's cufflinks, to exclusive leather bags, wallets and briefcases. A new ladies' range of personal leather items, including purse, wallet and make-up bag, as well as an extensive range of clothing for both men and women, make perfect gifts for family, friends or colleagues.
For children, Lamborghini colouring books and crayons are ideal presents for junior car enthusiasts, while T shirts in ages from two to teens come in a range of Lamborghini colours.
And for anybody who's lusted after a Lamborghini car, don't disappoint them: model cars come in a range of scales from matchbox-size to 1:18, for pocket-money prices. And who knows, next year, it could be the real thing parked alongside the Christmas tree!