Enhanced audio enjoyment as Clarion consolidates connectivity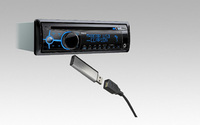 Clarion has launched a new flagship in-car audio unit, with new technology tie-ups and an increased emphasis on the high-end audio experience making the CZ702E the standout single DIN solution for 2012.

The CD/USB/MP3/WMA radio with built-in Bluetooth offers a whole host of premium audio features, such as Digital Time Alignment, 5 band parametric equalizer, 24 bit Digital to Analogue Converter, 50W x 4 amplifiers, digital 2 or 3-way crossovers, and 5 volt 6 channel RCA outputs for a far superior system installation.

Despite the prevalence of Bluetooth technology as standard in in-car audio systems purchased on the high street, Clarion's new relationship with premium provider Parrot Bluetooth ensures that its supporting units now offer the greatest level of mobile phone compatibility on the market. Maximum hands-free communication – via the built-in microphone and multiple phonebook access – and unrivalled audio streaming are both possible with the minimum of fuss.

Clarion has also long-since recognised its customer's desire and need for fully integrated operation of Apple's iconic mobile media device, the iPod. Utilising Clarion's solution, 'Simple Control', is made straight-forward by connecting an iPod or iPhone via the USB cable supplied with the device, to allow operation using the iPod/iPhone controls that you're used to using, in addition to control direct through the source unit.

In addition, the ABC Search function lets you list the names of Songs and Artists stored on the device that start with the alphabet letter you choose. This is much more convenient than scrolling through long lists, or having to enter a specific name. What's more, your iPod or iPhone battery is charged while connected to the source unit, so it's ready to go at full power the moment you reach your destination.

In line with an increased use of video via both devices, Clarion's CZ702E will also support playback of MP4 file formats with the optional addition of a CCA750 cable and external monitor.

With a host of in-car audio 'firsts' behind it, Clarion has crammed all its expertise in sound reproduction techniques into the top of the range single DIN showpiece.

Digital Time Alignment ensures the sound from each speaker reaches the listener at the same time, for perfect sound imaging, whilst the digital 2 or 3-way crossover guarantees that each speaker receives an optimised signal.

Built-in high pass and low pass filters and Beat EQ pre-sets (BASS BOOST, IMPACT and EXCITE) allow greater customisation and with separate subwoofer volume control, the impressive 4 x 50 Watt internal amplifier is put to good use.

With analogue radio's date of demise in the UK remaining a hot topic for debate, Clarion has at least ensured its top of the range audio head unit is DAB ready, with the optional addition of a DAB302E hide-away receiver allowing access to DAB/DAB+/DMB-A radio stations.

With 29% of all radio listening now done via digital platforms, and digital-only stations accounting for almost 25% of all digital listening, Clarion's CZ702E features a host of methods to search for an expanding list of exclusive channels, as well as further helpful features and functions designed to maximise enjoyment.

Embracing style as well as substance, the CZ702E benefits from a fresh design impetus for 2012; featuring a large rotary volume control, a white LCD display (13 segment 10 x 2 Line), piano black fascia and variable 728 colour button and display illumination, allowing for a more seamless integration into any dashboard configuration.

The CZ702E and DAB302E hide-away receiver will be available from April via Clarion's dedicated network of appointed dealers, priced at RRP £229 and £149 respectively.

For full details, visit clarion.co.uk.