A five star safari in the sea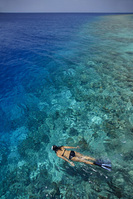 Not only can the newly launched Dusit Thani Maldives lay claim to the largest swimming pool in the Maldives and a bespoke spa elevated amongst its coconut grove... this five star resort has raised the bar even higher by securing a prime spot in the country's first UNESCO Biosphere Reserve, offering guests access to a plethora of aquatic neighbours and its very own resident marine biologist.
Located on Mudhdhoo Island in Baa Atoll, the brand new Dusit Thani Maldives is located in the Maldives' first ever UNESCO Biosphere Reserve, which is home to marine life including eagle rays, manta rays, a variety of turtle species and the endangered whale shark. And with a remarkable house reef encompassing the isalnd, one of the best in the Maldives, there is no better place to explore - allowing guests to swim the 360-degree Faroe reef system and three underwater caves alongside the schools of bannerfish and big eyed trevallies.
For guests who don't know their manta ray from their monkfish, but would like to, the islands onsite Marine biologist, Lauren Arthur, is on hand to talk them through Baa Atoll's phenomenal marine biodiversity. And for those who really want to take advantage of their unique vista, there is once in a lifetime opportunities to explore the reef during the day and night, join reef clean ups and monitor sea turtle nesting habits whilst staying at the resort.
Lauren Arthur, graduated from Newcastle University with an MSc in Tropical Coastal Management. Before moving to Mudhdhoo Island with Dusit Thani Maldives, Lauren worked as a marine biologist in Fiji. Talking about the resort's unrivalled location, Lauren commented; "Being able to holiday in a world-renowned UNESCO Biosphere Reserve is such an exceptional opportunity.
The tropical waters which surround the Dusit Thani Maldives, mean guests will have the chance to experience first hand, such a diverse mix of marine life in their natural habitat. With everything from the ocean's gentle giants; whale sharks to smaller favourites like 'Finding Nemo' clownfish frequenting the area. It's fair to say that Dusit Thani Maldives guests have their very own safari in the sea".
For more information, visit dusit.com.