Lamborghini expands UK network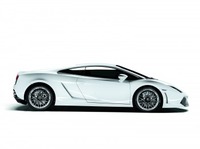 Automobili Lamborghini SpA will expand its UK dealer network with a fifth dealership to open in Reading, Berkshire.
Jardine Motors Group has been appointed to operate the new Lamborghini Reading dealership, to be located at Bennet Road, just off junction 11 of the M4. Lamborghini Reading will commence operations in July 2008 from temporary facilities, with a brand new showroom and service centre created to Lamborghini's exacting requirements opening on­site in 2009.
The new Reading dealership joins Lamborghini's existing outlets in London, Birmingham, Manchester and Edinburgh.
"We appointed Jardine Motors Group as a UK operations partner in recognition of the group's expertise and professionalism in performance and luxury retailing," commented Automobili Lamborghini's President and CEO Stephan Winkelmann.
"The opening of the Reading location strategically serves the Thames Valley corridor and the south west, ensuring we care for both our existing clients in the area as well as address our growing aspirational market in the region," continued Winkelmann. "The UK is extremely important to Lamborghini as one of our five most significant world­wide markets; it is essential we meet clients' expectations through our geographical representation, as well as by appointing partners such as Jardine that are committed to investing in, and upholding, the principles of Lamborghini's brand and retailing strategy. Choosing to drive a Lamborghini is not just about our exceptional super sports car product, but a lifestyle decision which starts with the dealership experience."
Lamborghini has increased its worldwide dealer network from 65 outlets at the beginning of 2005 to 117 with the appointment of Lamborghini Reading.
"We are extremely pleased to have been awarded the Lamborghini franchise," said Alun Jones, Chief Executive of Jardine Motors Group, which operates under trading names Lancaster and Scotthall amongst others. "Lamborghini joins Jardine's substantial worldwide portfolio of prestige and performance marques, and we look forward to an exciting future in terms of both the Lamborghini product and the contribution we can make to customers' experience of the Lamborghini brand."
Automobili Lamborghini recorded another record year in 2007, with a 15.3% increase in deliveries to 2406 cars worldwide. Lamborghini launched its Gallardo LP560­4 in Spring this year, which replaces the original Gallardo launched in 2003. Including a new engine, transmission and suspension, the significantly enhanced car provides 40 hp more power than the previous coupé, faster acceleration from 0­62 mph of 3.7 seconds, and a top speed in excess of 200 mph. The new Gallardo LP560­4 will be available to order from Lamborghini Reading and the UK dealer network: with a significant number of cars sold since the car's launch, orders are now being taken for 2009 delivery dates.
Lamborghini Reading is located at Bennet Road, Reading, RG 2 0QX, telephone 0118 965 8678. lamborghini­reading.co.uk