Lightweight Zircotec coating for Murciélago LP 670-4 SuperVeloce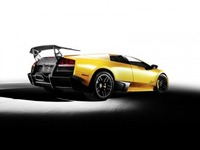 Automobili Lamborghini has selected automotive coating specialist Zircotec to supply a high performance thermal barrier for the lightweight Murciélago LP 670-4 SuperVeloce. The ceramic based thermal coating is applied to the exhaust system and reduces the need for heat shields while allowing heat sensitive lightweight materials to be used in close proximity to the exhaust pipe. Zircotec's Thermohold technology also protects other heat sensitive components from damage.
"Lamborghini previously used Zircotec for its Reventón where a durable solution to protect the composite bodywork and components around the exhaust was required," says Zircotec's sales and marketing director Peter Whyman. "This time the coating helped contribute to an overall weight saving of 100kg over the normal Murciélago, with 33kg of the reduction coming from the new powertrain and exhaust system."
"Zircotec helped us in achieving the attention to detail in weight reduction on this programme," explains Luca Meschiari, head of exhausts at Lamborghini. "Their coating helps save weight yet is also durable, and meets our requirements in terms of performance and quality more than other solutions we have seen."
Zircotec's Thermohold based ceramic coatings offer OEMs a robust, easily packaged solution that can dramatically inhibit the transfer of heat from exhausts and catalysts, retaining the heat inside the system to protect surrounding components.
The coating is plasma-sprayed, in effect welding it to the base material, making it more resilient during heat cycling, abrasion and life testing. The whole process eradicates the need for heatshields and wraps that add weight and complexity. Learning from their experience in F1, Zircotec can 'tune' the coating's thickness to cope with 'hot spots', applying the optimum amount to minimise weight (as low as 0.03g/cm² for some applications).
"The Murciélago SV is a growing testament that Zircotec's coatings help weight reduction, reduce complexity and keep the car cool," concludes Whyman.