Enjoy a big, fab conscience-free stay in Appleby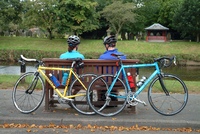 Travelling by big, fab, horse-drawn gypsy wagon to the world famous Appleby Horse Fair is not the only sustainable way to visit the ancient market town of Appleby and there's more to Appleby than just the event, whether you love walking, cycling, railways, heritage or links to American history.
Appleby is one of the apples in Eden's itineraries, being a visually attractive town, centred on the River Eden – the only river in England running from south to north. Appleby is one of the jewels being marketed by Nurture Eden, which aims to make East Cumbria a top class English responsible tourism destination.
The Appleby Horse Fair (June 7 to 13) will see around 10,000 travellers and 30,000 visitors flocking to an event staged annually since 1685 to allow gypsy travellers to trade their horses, after a ritual washing in the River Eden. But Appleby is more than just a horse fair, with a rich history, stunning scenery and charming shops, delicatessens and riverside cafes. It's also a great base for sustainable staycationers or short break seekers.
Appleby became the market town of Westmorland after the Norman Conquest and today's visitor can see evidence of its heritage as a bustling market town. Its main street, Boroughgate, is described as one of England's finest, running from the Cloisters, designed by Robert Smirke in 1811 at the north end, to Appleby Castle at the southern end.
At either end of Boroughgate stand High Cross and Low Cross, once the location in which to find the market's cheese and butter sellers respectively. High Cross dates from the seventeenth century and bears the inscription, 'Retain your loyalty preserve your rights'. Low Cross is an eighteenth century copy of the original cross.
A plaque above the Moot Hall's door is dated 1596, while many other buildings in Appleby owe their present-day existence to Lady Anne Clifford, a remarkable woman who battled for her inheritance and restored many neglected castles and churches, as well as Appleby Castle, during her lifetime (1590 to 1676).
Today, Appleby Castle is a private residence, but visitors to St Lawrence's Church can see Lady Anne Clifford's memorial. The Hospital of St Anne, near the castle's entrance, was built by Lady Anne as almshouses for the many poor people in the area at the time.
George Washington's father and two half-brothers were educated at Appleby Grammar School, which George would also have attended had his father not died. Britain's youngest Prime Minister, William Pitt, was one of Appleby's two MPs and the expression 'before you can say Jack Robinson' may also have originated here.
Reaching Appleby by an environmentally friendly mode of transport is easily achievable, while a wide variety of responsible holiday activities also exist in the area. Those living in Yorkshire can hop on board the spectacular Settle to Carlisle Railway, which calls at Appleby on a wonderful 72-mile journey, which includes a crossing of the spectacular 24-arch Ribblehead Viaduct, 105-feet above Batty Moss. Visitors travelling to Carlisle station, either from the south or from Scotland, can also connect with this line.
Travelling on the Settle to Carlisle Railway also makes for a great day out, whether travelling to Carlisle to shop or soak up Roman history, or heading to the Yorkshire Dales.
Keen walkers will find Appleby a core centre for delightful excursions. Details of circular walks of around 5-miles in length are available from Appleby Tourist Information Centre, while gentler, riverside walks and picnics can also be enjoyed just a 5-minute stroll from the town centre. In the Jubilee picnic area, walkers will find 'The Primrose Stone' sculpture by Joss Smith, one of 10 Eden Benchmark sculptures which celebrate the River Eden and encourage visitors to linger longer and enjoy the lovely riverside.
A 'Primrose by the River' circular walk, available in both short and long options, can be downloaded at applebytown.org.uk whether the walker wishes to spend three or six hours enjoying Eden's glorious landscape.
There is also a walk in the 'Discover Eden' series which covers Appleby, Hoff and Great Ormeside. This can be bought for £1 by contacting Jeannie Pasley on 01228 81747.
Experienced walkers can also take advantage of a Friends of the Settle and Carlisle Railway walk on June 30, which will depart from Appleby and take walkers via Dufton and Brownber Hill on a circular walk. On July 14, a 10-mile walk with North Pennines AONB will allow walkers to explore Little Fell, a hard hill to tackle, which is usually not available to the public due to this being M.O.D restricted land.
Cyclists are equally spoilt for choice. Keen riders can head out on a 27.3-mile (44km) ride from Appleby to the Orton Fells, with suggested stop-offs at Crosby Ravensworth, Orton and Great Asby. Appleby lies on the North Pennine and Sea-to-Sea cycle route and is also surrounded by quiet, rural roads that are part of the National Cycle Network.
Electric bike hire has come to Appleby for the first time this year, with three electric bikes for hire. These cost £30 per day to hire (including hire of helmet, high visibility bib and insurance), £15 per half day and £100 for a week with booking in advance required. An electric bike is capable of travelling between 35 and 65 miles on a full charge and at a speed of up to 15 to 20 miles per hour. A fully-charged bike can continue to be the wheels beneath your wings for up to six hours, so head to appleby-cumbria.co.uk/electricbikes.html to find out more.
Accommodation based on responsible principles can be found with a number of Nurture Eden members in and around the Appleby area, such as Midtown Farm (in Dufton), Milburn Grange (Knock near Appleby) and The Summerhouse (a delightful shepherd's hut) at Brampton Mill, close to Appleby.
There are many reasons to visit Appleby, but if the equestrian link is too strong to ignore, stay with Nurture Eden member, A Corner of Eden, in Ravenstonedale, close to Appleby and offering the option of days out in the saddle with local neighbour Stonetrail Holidays.
Head to agreeneden.org to find out how to put together your ideal sustainable stay in or around Appleby and find out why Appleby is about more than just a horse fair.