Worldwide sales of Toyota and Lexus full hybrid vehicles top 4 million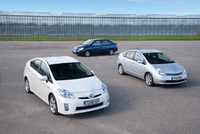 Total global sales of Toyota and Lexus full hybrid vehicles have topped the 4 million mark as of April 30. Cumulative sales of full hybrid vehicles in Europe reached 423,000 units. In the UK the number is 94,000.

Toyota became leaders in the development of hybrid cars as a response to environmental issues, the company believing that low emission vehicles can only have a positive impact if they are used widely.

It Started with a Bus

The Toyota Prius, famously the world's first mass-produced hybrid passenger vehicle, was launched in December, 1997 in Japan, but the first hybrid vehicles was actually a bus, the Toyota Coaster Hybrid EV which was introduced to the Japanese market in August, 1997.

Sales of the Prius began in Europe,North America and elsewhere in 2000. The second generation Toyota Prius was launched in 2003 at which point the company expanded the use of its full hybrid technology to vehicles such as minivans, SUV's, luxury saloons and family hatchbacks. The third-generation Prius launched in May 2009 and was a hit with customers around the world, leading to global cumulative sales of Toyota hybrid vehicles topping 3 million vehicles by the end of February, 2011.

Different Shapes and Sizes and Made in Europe

As Toyota's hybrid range expanded so came localised production such as the UK built Toyota Auris Hybrid and upcoming Toyota Yaris Hybrid which will be built in France. Later this year, the range will appeal to an even wider audience with the launch of the seven seat Prius+ and Prius Plug-in Hybrid.

Globally, Toyota currently sells 19 full hybrid passenger vehicle models in approximately 80 countries. This year, hybrid vehicles have accounted for 15% of Toyota's global vehicle sales.

Saving for the Future

Toyota estimates its full hybrid vehicles have led to a saving of approximately 26 million tonnes in CO2 emissions compared to what would have been emitted by petrol or diesel powered vehicles of similar size and driving performance.

Having positioned hybrid as a key technology, Toyota plans to continue working to further raise performance, reduce costs, and expand its product line-up, including that of non-hybrid environment-friendly vehicles, to create vehicles that are popular with consumers.