This year's top ten hybrid cars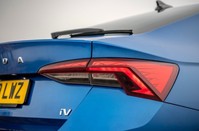 The drive to cut emissions is stronger than ever, but for many drivers the infrastructure to support electric cars just isn't ready. The worst pollution occurs when the engine is cold for short drives, or in heavy congestion – and these are also the times when fuel consumption is highest. As such, a hybrid car can mitigate the worst aspects of inner-city and short rural drives without introducing the range anxiety associated with EVs.
What is a hybrid car?
Like any popular technology, marketing has blurred the lines, but a hybrid vehicle uses an electric motor for slow speeds or to boost power. There are two significant ways of achieving this; the 'self-charging' hybrid that first appeared with the Toyota Prius, and the 'plug-in' hybrid that has become more popular in recent years, exemplified by the Mitsubishi Outlander PHEV, Audi and VW. You will also find various forms of mild hybrid, and some electric cars use range extenders.
How good are used hybrid cars?
After more than two decades of hybrid cars for sale UK, you'll find in big dealers and small traders' lots alike will usually include a couple of electrified models. They're generally very reliable and have less wear on the engine and brakes, but watch out for ex-taxis on older models. Nearly-new deals should be compared carefully with new if you're financing, as demand has pushed used prices up.
Which are this year's top ten hybrid cars?
Skoda Octavia iV
Sensible and practical, the Skoda Octavia iV is a plug-in hybrid that blends a 1.4-litre petrol engine and 13kWh battery for enaging performance and up to 40 miles of zero-emissions driving. It's a useful size for families and business, and well made with a subtle, but classy feel and lots of useful touches from Skoda's 'simply clever' philosophy.
Mercedes C300
Using mild hybrid technology to reduce emissions and improve economy, the C300 has all the class and style of the luxurious S-Class but scaled down to a city-friendly package. The petrol and diesel mild hybrid options are the most affordable, but if you want something more advanced there's a C300 e plug-in hybrid as well.
SEAT Leon
Like the idea of the Skoda Octavia iV, but want a different style? SEAT has you covered. The Leon puts a similar 13kWh battery and compact turbo petrol engine into a sporty family hatchback. It handles well and blends a youthful attitude with practical passenger and luggage space – and also offers that 40-mile electric capability. You'll often find good deals on the Leon, so shop around particularly if leasing.
BMW X5 xDrive 45e
A hybrid car doesn't have to be small and eco-focused. In fact the biggest benefits can be found in the biggest cars, like this BMW X5. Four-wheel drive, spacious and luxurious, if you charge at home all those vital errands you have to do, rather than the big drives you bought it to do, can be guilt-free as it's as clean as an electric car for up to 60 miles. It's not cheap but company car drivers will appreciate the lower BIK.
Lexus NX
You can, if you want, compare self-charging and plug-in hybrid tech for your lifestyle if you choose a Lexus. The NX offers both, and whichever one you choose you get high-tech infotainment and impeccable quality. What gives the Lexus NX an edge is compromise; the quality isn't all about show, it's beneath the surface, and the price is remarkably competitive. It even has warranty cover up to ten years if serviced by a main dealer.
Toyota Yaris Cross
It sounds angry, but you won't be. The Yaris Cross is the SUV-style small Toyota that complements the Yaris supermini and sporty GR Yaris, and it has lessons from both. The self-charging hybrid is mature technology that works very well here, and the car itself is a practical yet fun package that has great steering, suspension that handles neglected streets well, and a usefully-sized boot as well.
Kia Sorento
Kia's big SUV used to be associated with big fuel bills, but not any more. The Sorento's hybrid and plug-in hybrid options reduce running costs for this seven-seater quite dramatically. Electric power boosts the 1.6-litre petrol engine beyond the power you once bought a V6 Sorento for, yet the economy remains comparable to a small diesel. The plug-in can manage around 30 miles of electric-only driving, too.
BMW 330e
Look at Britain's roads and it's clear the BMW 3-Series hasn't lost that compact executive appeal that attracts accountants, families and keen drivers alike. Running costs might have kept you from the lovely six-cylinder models once, but as the name implies, this plug-in hybrid has that 3.0-litre style performance without the penalty at the pumps. There's no thirsty six here, though – it's a 2.0-litre with a motor in the gearbox. You lose a little boot space for 37 miles of electric range, but crucially the driving experience remains excellent. XtraBoost is fun, too.
Toyota Corolla Hybrid
Believe it or not, you can't buy a new Prius anymore. That's because after almost 25 years, Toyota's normalised self-charging hybrid tech and made it part of the range, and what better place to start than the world's most popular 'car', the Corolla. It's a sensible hatchback or estate, competitively priced, and usefully economical; and if you think it's going to be dull you should try it – Toyota's let the popularity of GR models influence how sporty the regular cars can feel as well.
Honda Jazz
This could be all the car you need, and it's one of the most affordable hybrid options. Honda's reputation for reliability meets sustainability with a self-charging setup that can do a couple of miles of congestion on electric power, and can cruise up a motorway as well as any executive saloon. The rather plain supermini has a rugged CrossStar sibling, and both models share immensely clever seats that can make the most use of passenger space for carrying stuff.
Which hybrid is best for me?
For typical driving habits in Britain the plug-in hybrid is an exceptionally good solution, if you can charge at home. Most will charge overnight on a 13A socket and get 20-40 miles of driving without ever waking up the engine. They can often top up the battery in the flow of dual carriageways without noticing a big impact on fuel consumption, too. On longer drives the motor helps with coasting and improves fuel economy.
The self-charging hybrid is more versatile, and even smaller models have advantages over non-hybrid cars. For example, the Honda Jazz CrossStar can exceed 60mpg, but also handle long motorway drives with the refinement of a more powerful car. Small batteries mean the engine is used more, but for the driver and environment it's all good news. Economy is better and emissions are down. And the self-charging hybrid is often much cheaper than a plug-in.